Summer infant LIV cam on the go: review
We are big summer infant fans you may have seen last year we reviewed their pop n sit booster chair which was so useful . We have then gone on to buy their panorama baby monitor . Which is the best monitor we have used .After having two monitors we didn't really like I was so glad to have found this one. We have now been sent the Summer infant Liv cam to review. Which for us has been really handy we're always on the go . Seeing different people so to have a portable camera has been fantastic. Especially when Ava goes to my parents house once a week. I must add my mom is a bit of a technophobe and she was able to set the camera up and use it with ease.
Although the summer Infant Liv Cam is enabled with peer-to-peer WiFi no internet access is actually required. The Liv camera enables you to stream a live image to you phone using an app. The app is available on both Android and IOS and doesn't carry any data charges. The only downside to this for me was that whilst i was using the cam i wasn't able to use my phones WiFi to go on the internet. As it's only an occasional use camera this is fine but it may be something to take into consideration.
The summer infant Liv cam comes with a suction cup on the base so it can be mounted on a variety of different surfaces.
It also has an adjustable arm so you can change the angle if required.
The camera isn't just for daytime use as soon as the light gets low the night vision will kick in. It can be used both indoors and outdoors.
The camera itself has a shock resistant outer shell. Which is prefect for when it's in your changing bag or luggage bag.
Have you ever found that your little one does something funny in their sleep and you wish you could share it with others . Well the summer infant Liv cam has a one minute replay option so you can share these moments with your loved ones.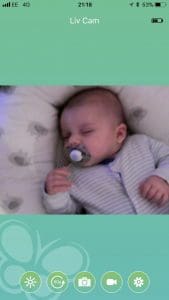 I did find I could hear some static noise when it's in use but nothing that was too noisy and it would come and go.
Please note before you can use your summer infant on the go Liv cam it will need charging . When the charging light has changed to green it's fully charged. You should then get between 3-4 hours of use from one charge.
Overall i think this is a great camera and is perfect to keep in the changing bag just incase. Also if your off on holiday this would take no space at all up in your suitcase.
*We were sent the Summer infant LIV cam for free in return for an honest review. All opinions are my own*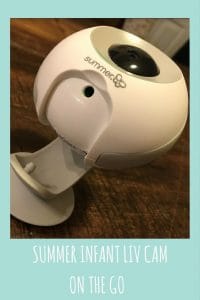 Follow me on :