We were recently asked if we would like to review the Toddlebike2 . I showed pictures of the bikes to Ava to which her response was WOW. So that kind of answered the question for me.
I have been looking for a balance bike for Ava for a while now. I have come across many different designs but a lot of them either looked to heavy and bulky or I didn't think she was going to be able to balance effectively on them. So after doing a little Goggle of Toddlebike2 I could see that it was the bike I was looking for lightweight and stable.
I had an email from the company before I received my Toddlebike2 to say. Don't be alarmed if the box feels empty when you receive it. As the bike is really lightweight, there will be a bike in the box don't worry. My immediate thoughts were don't be so silly it wont be that light. It has to have some weight to it to withstand a toddler racing around on it. Gosh was I wrong I took the package of the postman and did that thing when you expect something to be heavier than it is. Then nearly drop it making a total fool out myself in front of the postman.
The best thing of all is that you don't have to do anything to put it together !! Yay so no stressing or loosing parts its all in one section and ready to be ridden as soon as its taken out of the box. Ava's reaction was even more excited when she saw it for the first time squealing at the top of her voice. It did take her some time to get used to riding it. At the start she would just walk with it between her legs. But like everything in life the more she practised the better she got at it. For some reason she wont sit on the seat part she sits on the bar before it ! I have no idea why. I'm guessing as she gets bigger and her arms get longer she will sit on the seat section properly.
The best time to try a Toddlebike2 with your little one is when they can walk confidently. It can be used both indoors and outdoors.Ava has defiantly put hers to the test on many different surfaces and they glide across them all with ease. Also this means that if you don't mind your little one riding around the house on it. It doesn't have to just be used in the summer. The wheels are easily cleaned with a baby wipe.There really isn't much in life that isn't easily cleaned with a baby wipe right !
Whenever we take the dog for a walk now the Toddlebike2 comes along with us. Which I don't actually mind as if she gets bored of it half way round its not heavy to carry. I have also been able to fit it under my pushchair with ease. So we were able to take it to the park to play on.
Avas also found it's great fun to ride into the back gate on it !
All materials are CE-approved, TUV certified, and manufactured in Europe. It also comes with a 3 year no-quibble guarantee .The suggested age range for the Toddlebike2 is 18 – 36 months and it has been tested to 100kg. The Toddlebike2 is £23.95 and can be purchased in either Midnight Blue,Pinky Pink or Racing Red and can be purchased from their website. Or you can always pop down to your local Halfords for a test ride.
Want to see how other children got on trying out the Toddlebike2 then take a look at how Lucas from Chilling with Lucas got on.
*We were sent the Toddlebike2 for free in return for an honest review, All opinions are my own*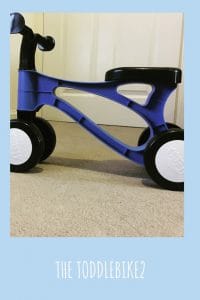 Follow me on :