Now I very rarely buy myself new clothes. Some of my clothes I have had in my wardrobe for years. Now I have had Alby and I'm getting to the weight I'm happy with . I am ditching the old tried clothes and giving my wardrobe a make over. I need practical clothes for everyday that aren't boring and mummy something that looks nice and I feel nice wearing. The guys over at Look Of The Day (LOTD) have very kindly given me some money to spend on their website. To give me the kick-start I needed.
Now LOTD isn't a site I have brought from before now so I was a little worried how their clothes would be. I'm not the biggest internet shopper as I find a lot of things don't fit me properly. They are either too short in the length with tops or the trousers don't fit and are normally way too long. I was very surprised that all the clothes I ordered fitted great and for the price they are great quality. I have washed all the items now and they have washed really well. They haven't lost their shape or shrunk at all which I have found can happen from other shops. I even treated myself to some heeled boots .Which being a mom of two I don't really wear heels anymore. I thought though if I have a child free night out I would like some comfy but nice to wear.
I did go a little bit out of my comfort zone with some of the tops I wanted something a little different. I normally just go for blue flowery tops or really plain tops but they are generally blue too. I have a bit of an obsession with blue clothing just one look in my wardrobe I can see there is little variation . So I thought its time to change and I love the pieces I picked .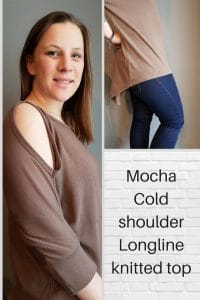 Shown above is the Mocha Cold shoulder top. This I really like as I hate tops that sit on my waist as I still have the last bit of baby weight to lose and they can make you look a little round. So this top is perfect its longer at the back and has the cold shoulder detail giving it a bit of something extra not just an oversized top. It also has a three-quarter length sleeve which I really like. At the time of purchase ( January 2018) this top was £6.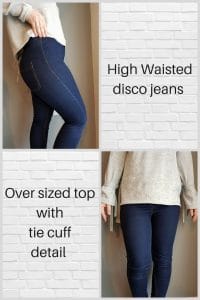 Shown above is High waisted disco jeans. Now since having children I have fallen in love with high wasted trousers. I find them so much more comfortable than normal fit jeans. I like the fact that there is no way any belly will be shown when bending over to see to the kids. At the time of purchase (January 2018) the jeans were £12.00. Also shown above is the Oversized grey top with tie cuff detail. Since getting this top I have seen the tie detail on so many different tops. Something I have never had before but I am a big fan. It makes an oversized top more interesting. Not the best when washing up though ! Even thought its oversized I don't feel frumpy in it which I thought I might. The cut of the top is really nice with it being longer at the back and not over massive on the body. At the time of purchase ( January 2018) the top was £15.00
Lastly we have the tie up back jumper and the beautiful sling back heels. The tie back jumper was one I wasn't sure I was going to like. I have found knit wear can be a little unflattering and maybe even sometimes boring. The tie up detail on the back certainly adds a little excitement to the top . I do wear a vest top underneath ,as it's not as long as the other ones and I'm always worried about flashing my belly. Also what's the betting Ava will learn to undo the back. Overall I like the look of this jumper and looks and feels really nice on At the time of purchase ( January 2018) the jumper was £10.
The sling back heels now these are my new love. I don't really have many heels. So when I do get some I want them to be comfy but also stylish. These heels are that I love them especially with the metallic detail around the heel. The only thing I would change about them if i could would be for the buckle to be stronger and not on a piece of elastic. I have had shoes like this in the past and over time the elastic looses it elasticity and doesn't work as well. I'm hoping as these are occasional wear that this wont happen. The sling back heels at the time of purchase (January 2018) were £20.00
Overall I'm really impressed with LOTD. From the ease of ordering from the website to the fast delivery and the great quality of the products. I will be order from here again for sure.
*I was given credit to spend on the LOTD website , All opinions' are my own *
Follow me on :