BabyBjörn toilet training seat : review
For the last 6 months now Ava has been showing interest in potty training on and off. She will happily sit on the potty but wasn't too keen on the toilet . Then recently she started to want to go on the toilet but I feared she would fall in and this would totally put her off . Thankfully we have been sent the BabyBjörn toilet training seat to review.
The BabyBjörn toilet training seat is really lightweight meaning that Ava can put it on . And take it back off by herself with ease. The toilet seat itself is made from BPA free Plastic, that is easily cleaned. The rubber rim around the outside of the seat is great for keeping it in place whilst you clamp it to the seat . Using the Adjustable dial underneath . Now I though this was genius ,now there is no chance of the toilet seat coming off with her when she gets off . Or it slipping out-of-place.
Ava seems to be really comfy when she is sitting on the toilet training seat . In fact she is asking to go to the toilet more and more which is fantastic. She is of course of an age where she is ready to toilet trained . But I do believe the toilet training seat has given her a boost in her confidence . As she knows she is both safe and secure whilst on the toilet.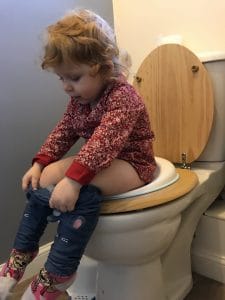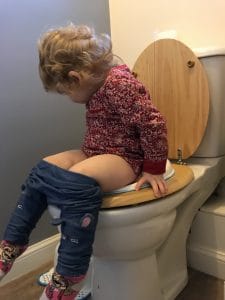 Also the design of the seat means that there will be no spills. As the inbuilt splash guard of the toilet training seat is angled.
When not In use there is a handle on the top which could be used to put it out the way on a hook.


For more Information on the BabyBjörn toilet training seat or to see other products in the range visit their website.
*We received the BabyBjörn toilet training seat for free in return for an honest review. All opinions are my own*