Beautiful keepsakes with BabyArt : review
We are big BabyArt fans in our house .When Ava was born we purchased some of their My baby touch wooden double frames to give as gifts to family to say thank you for their support in the lead up to Ava being born.
So when i was asked if I would like to review their magic box I said yes straight away knowing how good quality their products are I knew we would love it .
We was sent the BabyArt magic box which is a special tin that you can keep a imprint of your child's hands or feet in. To create your imprint it is really easy and simple.
So that Ava knew what was going on and to make the experience fun I let her explore the putty before hand and she really enjoyed this sensory experience.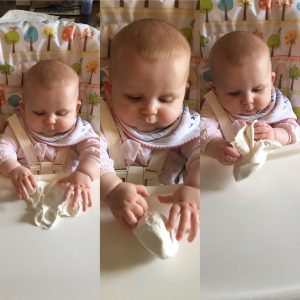 Inside the tin is the putty which you will do your imprint on and then a small wooden rolling pin. You have to simple take the putty and roll it out to a size that is big enough for the tin. I used the tin as a guide and cute around it once I had got the putty to the desired size. To get a smooth surface to do your imprint on make sure to turn over the putty once at the desired size .As the side that was on the surface is nice and smooth. I placed my cut out putty in the tin once done so that I had a hard surface to do the imprint on.
Once in the tin I just used my finger around the outside to make it look tidy and pretty. I then used both of Ava's feet to make an imprint and wrote her name along the top. I have also added a sticky label on the back of the tin and put the date that I did it . So when I looked back I can see how old she was.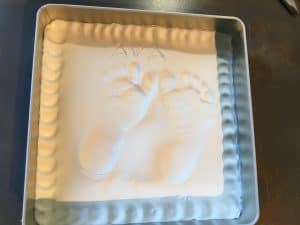 Not only did we have great fun doing this we will have it to keep for ever. This would make a great present for someone but I love it too much to give away and will be keeping it to show her when she is bigger.
The BabyArt magic box is priced at £8.99 and can be purchased from Argos I have also purchased BabyArt products myself from Amazon. For more information about the BabyArt range please visit their website.
*I was sent the BabyArt Magic box square for free in return for an honest review all opinons and pictures are my own.*