Boobie Beads stopping children chomping on jewellery that may harm them
Ava is always putting her fingers in her mouth and if I have a necklace on then she will suck and chomp on that too. This is always a worry of mine as she may cut herself on my jewellery and if I'm honest who really knows what germs may be on your own jewellery.So when I was sent a Boobie beads teething necklace to review I was so happy. We have brought Ava many teething items over the past few weeks and she hasn't been interested in them at all. So I really didn't know how she would take to the necklace. As soon as I put it on and showed it her it was straight in her mouth, chomping on it with great enjoyment.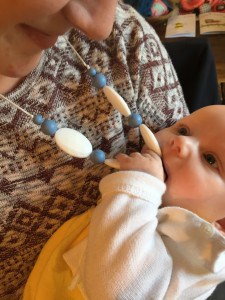 The Boobie beads are made from soft silicone and are BPA and toxin free , which make them perfect for little ones to chomp on. They are also very stylish and available in many colours meaning you can get a few of them to team them up with your different outfits. Not only does the Boobie Beads company do teething necklaces for mom's they also do mini ones for toddlers !!. They also do a wide range of other products from soft silicone dummy clips to teething bracelets. So there will defiantly be something for everyone there !.
One element of the
teething necklace
that I thought was really good is that the necklace has a break away feature at the top meaning if your little one tugs to hard on it then it will break away meaning it wont go tight around your neck ( perfect, we have all been there when you have got a little one hanging from your necklace, whilst finding it hard to breath !).
for more information about Boobie Beads you can contact the company on
Email: boobiebeads@outlook.com
Text:07719044188
Facebook: Boobie Beads
They have some lovely picture of all products available on their Facebook page so is defiantly worth taking a look at.
The necklace featured in this review was sent to me for free in return for a honest review . The retail price of the necklace shown above is £10.00