Clevamama Clevapure salt lamp, humidifier and nightlight| review
We received the Clevamama Clevapure for free in return for an honest review. All opinions are my own.
If you are a long-time reader of my blog you will know that both of my children suffer from Asthma and have spent time in Hospital with it. One of the things I do to help them with their asthma is to get their bedroom temperature and atmosphere right. When it's too muggy and warm they really struggle and the same when it's cold and we have the heating on. I find the winter months are the worse as the air is so cold and dry.
I am always looking for ways to help them at nighttime with their breathing, especially in the winter months. I have been looking for a while at humidifiers as I had read a lot online about how they can be beneficial for children/ adults that have asthma. Then recently I was contacted by clevamamma to see if I would like to review their Clevapure humidifier. So I thought I would see what it was all about in preparation for the winter.
What's in the box
In the box you get
Mist outlet, plastic cover, base and water tank
Himalayan salt rock ( includes extra salt rocks)
power cable and plug connectors
light bulb
Setting up your Clevapure
It is so simple and easy to set up. You simply place some Himalayan rocks in the clear plastic base. Then fill the water tank up to the max line and then pop on the plastic cover. Once all of this is done you will need to attach the correct plug head ( either two pins or a three-pin adapter) and plug it all in.
You can if you want to add some essential oils to the water. Essential oils such as lavender are great as they help to relax you and aid a good night's sleep.
Once all this is done you are ready to go. Just remember to place it out of the reach of children and on a stable surface.
Features of the clevapure
One of the features I really like about the clevapure is that once all the water is gone it has an auto-stop feature. This means it won't burn out, you do however need to make sure that you change the water every 3 days if you don't use all the water in that time.
It's perfect for children's bedrooms as it's silent and this is something I worried about. My two sleep really well and I didn't want to add something to their room that could potentially wake them up. It also has a nightlight feature which has three different brightness settings but can also be turned off completely which I like.
You can also have the mist function on three different settings. If you have it on the continuous setting it will last for 6 hours and for 12 hours on the intermittent setting then you will need to refill the water tank.
Another plus is that it has no filters which mean you don't have to remember to change them. It also comes with more Himalayan rock salt that you need to fill the bottom section.
What does the Clevapure do?
The humidifying aspect of the clevapure helps children when they are congested, the cool mist can help ease upper respiratory symptoms, soothe a sore throat and help dry itchy skin whilst little ones sleep. The Himalayan salt stocks are known for their sleep-assisting properties. Creating and calm and resultful sleep environment for children is suggested to reduce the chance of allergies, and irritants that cause respiratory issues among babies.
Our overall thoughts
Overall I really like the Clevapure, it looks really stylish and I can see it fitting nicely into a lot of nurseries and children's bedrooms. The cord length is really good meaning it can be placed up high out of the reach of children easily.
I love how they have combined the properties of Himalayan rock salts and a humidifier to create a product that has multiple benefits for babies and children.
The added night is a great addition and the fact you can have it on different brightness I really like as all children are different when it comes to how dark they like their bedroom at night.
I haven't yet been able to see if it makes a difference to my children's health during the winter months but I would say having it upstairs has made them seem calmer at bedtime and more chilled ready for sleep. As I have been putting this on half an hour or so before they go to sleep so they can experience the benefits of the calming rock salts.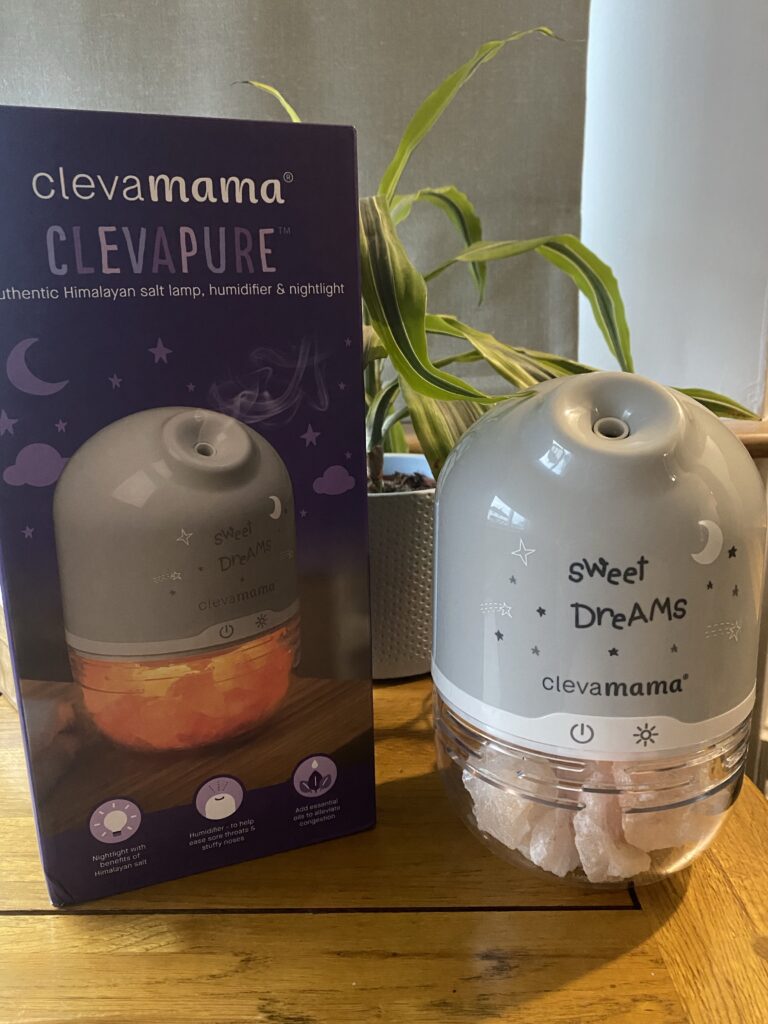 I am really looking forward to seeing if it will help them during the winter months and I will be sure to update this post when I have.
You can buy the Clevapure by Clevamama from the Clevamama website for £65.