The original cuddledry hands free baby towel: review
Bath time in our house ends up with more water on the floor and myself than is left in the bath. This is mainly because Ava loves to splash . When I say splash I mean lob water around the bathroom. Poor Alby doesn't really get much of a relaxing bath time with Ava around. Cuddledry have recently sent me one of their bath towels to try . So I'm hoping it will help keep me a little bit drier during bath time.
What is the original Cuddledry baby bath towel
Basically the Cuddledry bath towel is a towel that parents can wear. Stopping them getting soaking wet when getting their little ones out of the bath. The neck piece is easily detached and attached . Leaving your hands free to get baby out the bath safely .Also it means you don't have to wrestle with a wriggling baby to keep the towel around them.
I have found it makes that transition from bath to my arms so much easier and less water all over the place, More importantly less water on my clothes !
I loved that the towel was big enough to cover me and it also has a corner pocket to pop over his head . Keeping his head nice and warm whilst you're getting him dry.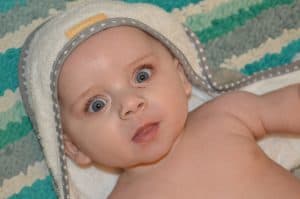 The Cuddledry towel is super soft and stays soft even after washing. It is made up of two luxurious natural layers one side is a cosy velour blanket and the other layer is a gentle terry-towel drying layer. The cotton is pure unbleached cotton and has natural bamboo fibres.
I have found it to be very absorbed and gets both my kids dry in no time. Although this towel is made for babies. Ava loves to use this towel. It's so big it means that she can wrap herself all up in it. This is something she is now unable to do in her other hooded towels.
Our overall thoughts
Overall I am really impressed with the cuddledry yes it may be a little bit more expensive than a normal towel at £29.99. I would say though it's so worth it. It's meant that I can stay nice and dry whilst getting Alby out of the bath. Also I'm able to have after bath snuggles without having to wrestle with a towel to stay around him which is lovely. I also love the Grey colour I'm a big lover of gender neutral products. Even more so now I have both a girl and a boy.
The beautiful material that the towel is made from is soft of their skin and dries them really quickly. Also the fact that it is huge is a big plus for me. As babies can get cold pretty quickly after having a bath. With the cuddledry I was able to lower Alby on the changing matt and then wrap him up nice and snuggled in the towel. Most of the time he is practically dry by the time I go to lay him down. As we are able to have a little snuggle as I get him out the bath and give him a gentle rub to dry him whilst I'm doing this.
This would make a great gift for any parents that are expecting a baby. Or a parent that is fed up getting soaking wet when getting their little ones out the bath.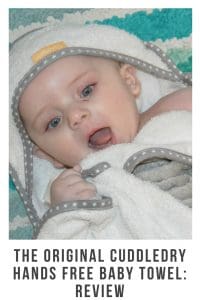 *We were sent the original cuddledry for free in return for an honest review. All opinions are my own*
*This post contains an Amazon affiliate link*