Dotty Fish soft soled shoes allowing children to put their best foot forward: review
Ava started to walking just before her first birthday . Like most toddlers she kept falling over . I noticed that as she got older and more confident with her walking she was still falling over a lot . After months and months of me trying to seek help . We eventually got to see a physiotherapist who said Ava in toes as she walks . This means instead of her feet facing forward when she walks they turn in . Which is the reason to why she falls over a lot.
We have now seen the physiotherapist twice now . She has said that it's got a little better but she does still in toe. She's hopeful that it's something Ava will grow out of . She did say that Ava needs completely flat shoes. Now you wouldn't believe how hard this is . Most of the fashionable shoes have a small heel on them . Even visiting Clark's we are limited to what shoes she can have .
Recently we have been sent some Dotty fish soft leather shoes for her to try. Like I do with all companies we work with I looked into the ethos and reasoning behind the company. What i found really impressed me.
Dotty fish have been working with the London Podiatry Centre. They have been looking at the effects of soft soled footwear on children who are learning to walk. They have found that children dont need structured shoes to support them to walk in . In fact the best thing for children is to be barefoot .Or The next best thing is to have an extremely lightweight flexible shoe with a thin, non-slip sole that protects a baby's delicate foot and prevents slipping.
This type of shoe will still give them all the benefits of walking barefoot whilst protecting their feet and allowing them to feel the floor beneath them. This is where Dotty fish shoes come in they are extremely lightweight and completely flexible. Making them the perfect alternative to being barefoot. We have been trying Ava's Dotty fish shoes now for a few weeks and I'm really impressed with them.
I also used to think that children needed structured shoes to enable them to walk . How wrong I was I can see such a difference in Ava's walking when she is wearing these . She falls over a lot less and looks a lot more comfortable. The wider area around the toes enables her spread her feet out whilst is she is waking. We have however only been able to wear them whilst we're inside as the British weather isn't the best . And I was worried about them being ruined if she wore them in the rain.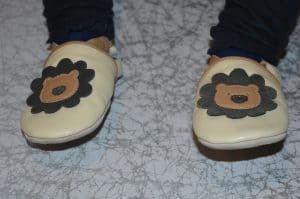 Looking through their website there was so many different designs to pick from. Ava was torn between the lion ones and the butterfly ones. But in the end as you can see she went for the lion ones. Calling them her RAAA shoes ! . She's not the biggest one for having anything on her feet if she can help it. So this does means her feet get so cold so I was hoping she would keep these on.
She hasn't just wanted them on during the day the other night she had a little breakdown. As she wanted to wear them to bed.
They are a great pair of shoes Ava has worn them every day since having them and you couldn't tell. They look brand new ! I'm so glad we got the opportunity to review these shoes. I will be buying some for Alby for sure when he is at an age to start exploring and taking his first steps.
*We were sent the Dotty fish shoes shown above for free in return for an honest review.All opinions are my own*