Finding Dory , the book of the film from Parragon books: Review
Finding Dory is the second instalment in the finding Nemo series. The first film finding Nemo is a much loved favourite of mine . Its one of those films you can put on ,on a lazy Sunday and the whole family will love it.
This year they released finding Dory just like finding Nemo the film was both action packed and full of funny moments . I think a lot of the characters in the film you can liken them to people you may know. It really is a film full of laugh of loud moments perfect for the whole family to enjoy over and over again.
When Parragon books asked me if I would like to review the book of the film I was intrigued to see if it was as good as the film. The book was sent in a beautiful packaging which sadly I didn't get a chance to take a photo of a Ava ripped it open straight away. She loved the stickers that accompanied it and has made a lovely picture with them.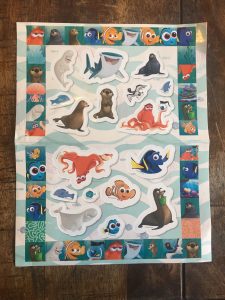 This book is aimed for children between the ages of 7- 10 years. So we gifted it to our friends daughter to enjoy.
As soon as I gave her the book she was excited as she too is a lover of the film. As she is only 7 she did need some help with reading sections but was able to read most of it on her own.
The book consists of 144 pages and has a lovely picture section in the centre. This gave my friends daughter a target to read to. As she didn't want to look at the pictures before she had read up to that point.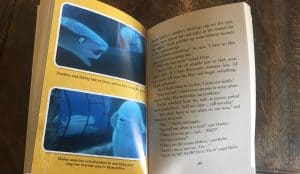 After she had read it I asked her what she thought. Also what the story was about to which her reply was
The book is about a fish called Dory who is really forgetful like my mommy !Dory goes on a big adventure to find her Mom and Dad.Who she hadn't seen since she was a baby fish. Dory makes lots of new friends along the way. I liked Destiny she was really cute !
Now I wont be a spoil sport and tell you how it ends. If you haven't seen the book or read the story before. I would totally recommend this book as it's both funny and engaging and is just as good as the film.
The Finding Dory book can be found in most major book retailers and also on Amazon. I have included my Affiliate link below to make it easier for you to find.
* We were sent the Finding Dory book by Parragon for free in return for an honest review"