Our first impressions of the Knuma Huddle
Baby number 2's arrival is fast approaching and the lovely people over at knuma have sent us their Huddle to help him hopefully get a good nights sleep. This review will be in a 2 part series the first is our first impressions of the knuma Huddle and once baby is born and has tried it out we will post a follow-up post for you.
Hopefully this way you will get all the details and information you need. Like any other review that I do if there is anything you would like to know that I haven't included please just send me a message and I will try my best to answer your questions.
What is the Knuma Huddle ?
The Knuma Huddle is a co-sleeper cot which attaches to your bed for easy access to your little one during the night. This I am really excited about as with Ava I ended up having a C-section and found those early days of bending over her mosses basket so painful. So If I have to go down that route again I know I will be able to get him in and out of his Huddle pain-free. Not only is it a co-sleeper cot it can be used as a standalone cot, removable bassinet or a child's desk and bench which completely blew my mind. Meaning that this product will grow with your child.
Yes it may carry a higher price tag than a mosses basket but it does so much more.Also as its bigger than a mosses basket it means you get more use out of it. Which if your unsure about putting them in their own room so young or want to co-sleep for longer it gives you that freedom. It is recommended by the Lullaby trust that the safest way for your little one to sleep is on their back, on his own sleep surface, in the same room as you for at least the first 6 months, The Knuma Huddle makes this possible. Co-sleeper cots like the Knuma huddle allow babies to be close to their parents and I can only image for breastfeeding moms this is so handy.
How easy was it to make the Knuma Huddle ?
I did get some help from a nearly two-year old with putting our Knuma Huddle together and we still managed it. The instructions I found were clear and everything I needed was in the box. The only thing I would say that it does take some time to put together this may of also been because Ava was helping. The Allen key near the end did really start to hurt my hands as there are a lot of different components that need to be put together .
How easy was it to fit the Knuma Huddle to the bed ?

It was surprisingly easy, all you have to is connect the two straps around the bed frame.Then attach the straps to the cot. It felt surprisingly secure and is easy enough to disconnect and reconnect . Meaning when I want it to go on Jordan's side of the bed it isn't too much hassle.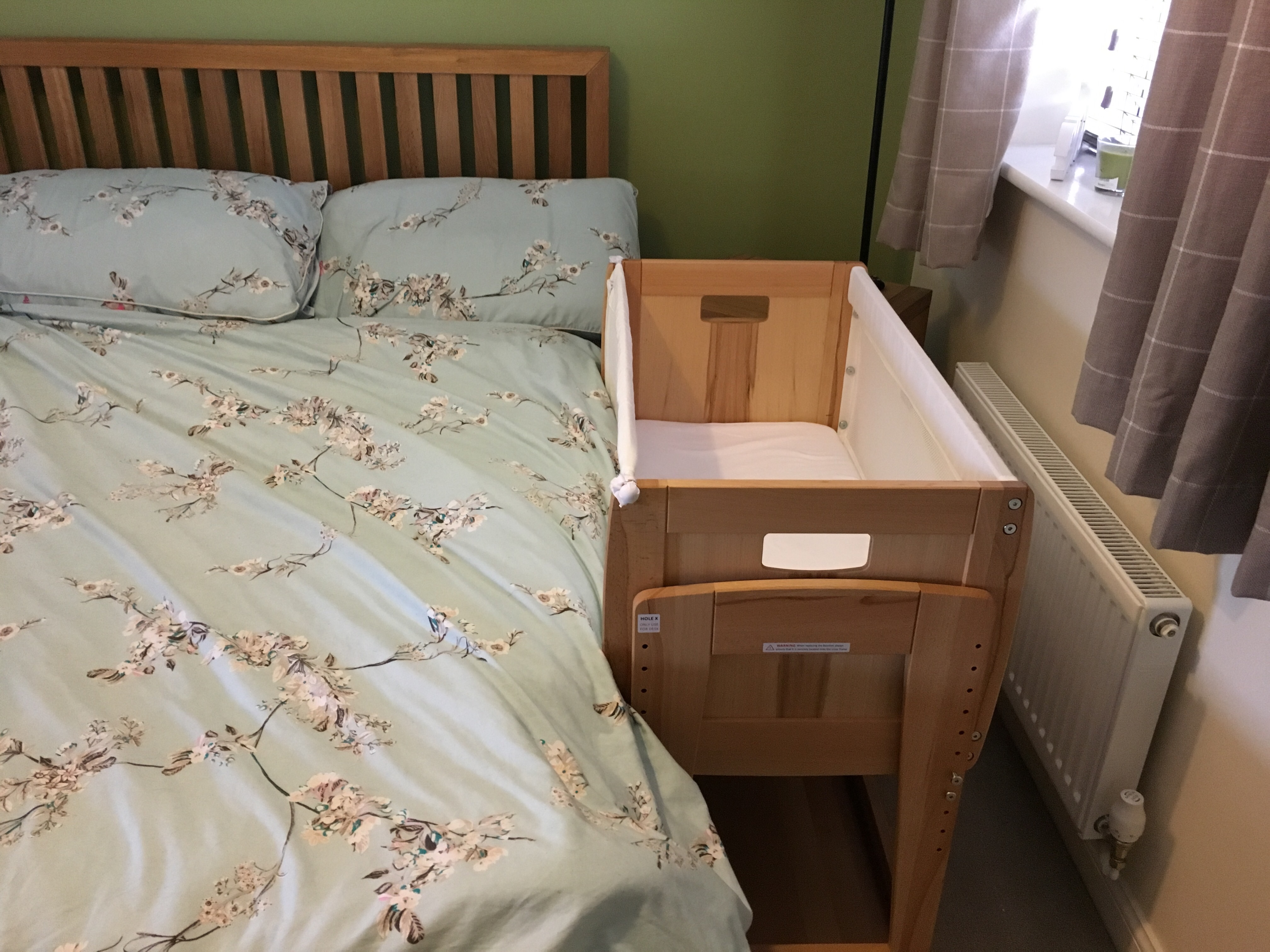 The Huddle has 10 different height settings so whatever the height of your bed it will be compatible.
Is it easy to move ?
You don't have to always have to have the Huddle attached to your bed it can be used as a stand alone cot. As the frame is in one solid piece it can be hard to take it up and down the stairs. It's also a little heavier than your normal Moses basket and stand so after birth it may be too heavy to carry around by yourself. Also the bassinet section doesn't have any handles so I wouldn't want to carry it with baby inside.
If I'm honest I'm planning on just using mine attached to the bed . Then moved into babies room once he is old enough so he still has the comfort of the Huddle but in his own room. I think this will make a great transition into his own bed.
Will it make for a comfortable sleep ?
I am actually pretty jealous of the quality of the mattress as it feels so comfy ! The mattress is much thicker than your typical Moses basket mattress and is made from natural bamboo fibres. The Huddle is also a lot bigger than your normal Moses basket meaning your little one has more space to get comfy and it will last them a lot longer.
Please note that the mattress is sold separately and retails as £30
Easy to see mesh sides

The sides are mesh which is great for being able to have a little peak at them. I'm sure Ava is going to love being able to see her baby brother though the mesh sides. Also as the sides are a mesh it makes them breathable and also allows air flow. Which makes me less worried about if he cuddled up near the side to sleep. This is something Ava always used to do in her Moses basket and it used to scare the hell out of me.
The sides are really easily taken down but not too easy that a toddler can do it which is great. You simply have to undo the poppers around the top.Unzip the sides and then lift the rail out of its holder.

Does it rock ?
Yes it does which for me will be amazing as Ava loved to be rocked as a baby and our traditional Moses basket and stand didn't rock. Both the bassinet and frame rock so if you're using just the bassinet section on the floor you are still able to rock it ! Genius !
I have noticed though that the base rocks from back to forth and the bassinet rocks from side to side . So this is going to take some getting used to.
Does it take up a lot of space ?
If you're looking for a space-saving co-seeing cot this isn't the one for you . The Huddle is bigger than most traditional Moses baskets on the market .It however does measure roughly the same as most other co-sleepers on the market.
Be sure to measure before purchasing that you have enough space to attach the Huddle to your bed. Also that you can also manoeuvres around it. It is a little tight in our room because of the furniture we have but I know it won't be for ever plus it looks a lot nicer than a Moses basket.
It has storage !!
With a new-born you can never have enough storage. Of an evening when Ava was a baby I used to have things piled on my bedside table. Which normally resulted in me knocking them off in the night which stressed me out. Well with the Huddle there is storage at the bottom . So you can keep spare clothes , nappies blankets , bottles what ever you may need in one place all organised !!
What's in the box ?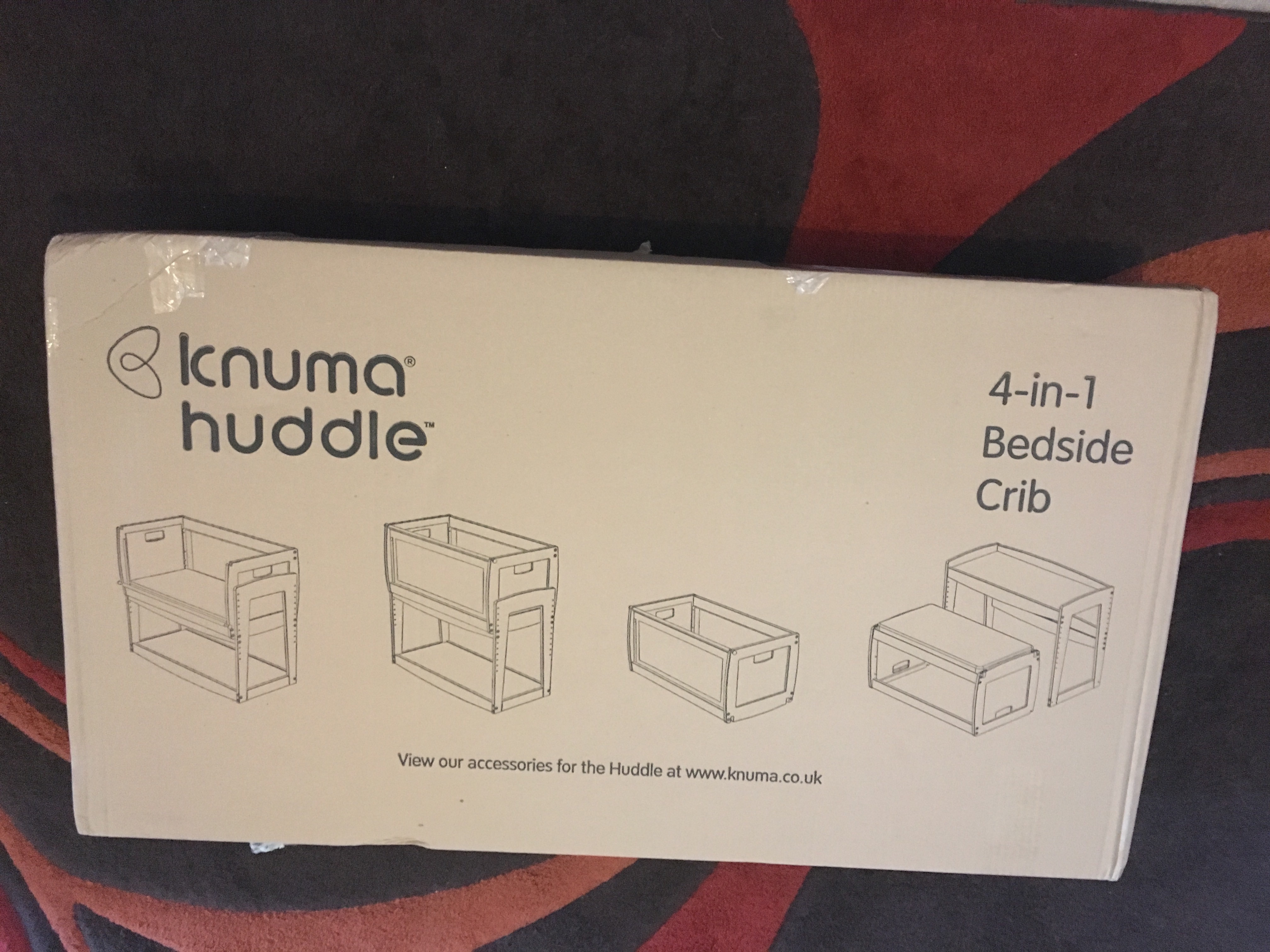 Huddle crib with mesh walls ( flat-packed)
Base (ready to be built)
instruction manual
Allen key and all the screws you will need
Additional extras
Mattress -£30
Fitted sheet- £19.99
Our verdict
I cannot wait for baby to come now to see how he gets on in his Huddle . It looks and feels so much more comfy than a traditional Moses basket and will be used for longer . I love the fact it can convert into a desk and bench . Making the higher price tag so much more worth it . It's not a product that you will use for 6 months then have it collecting dust somewhere just incase . You can keep on using it for a long time.
You can tell a lot of extra though and attention has gone into this product . It does all the things I could want it to do. It rocks, converts down, has storage and also looks amazing. It's available In three different colours so will suit a wide ;