AD| post contains gifted items and affiliate links.
With the children spending more time at home and the weather not being the best. It's important to have a range of different things for them to explore and play with to keep them entertained. My two at the moment are all about constitution toys.
We have recently been sent the Geomag confetti set to try. We have some other Geomag sets in the past and they have loved them. So I was hopeful that these would be the same and that they would keep them entertained.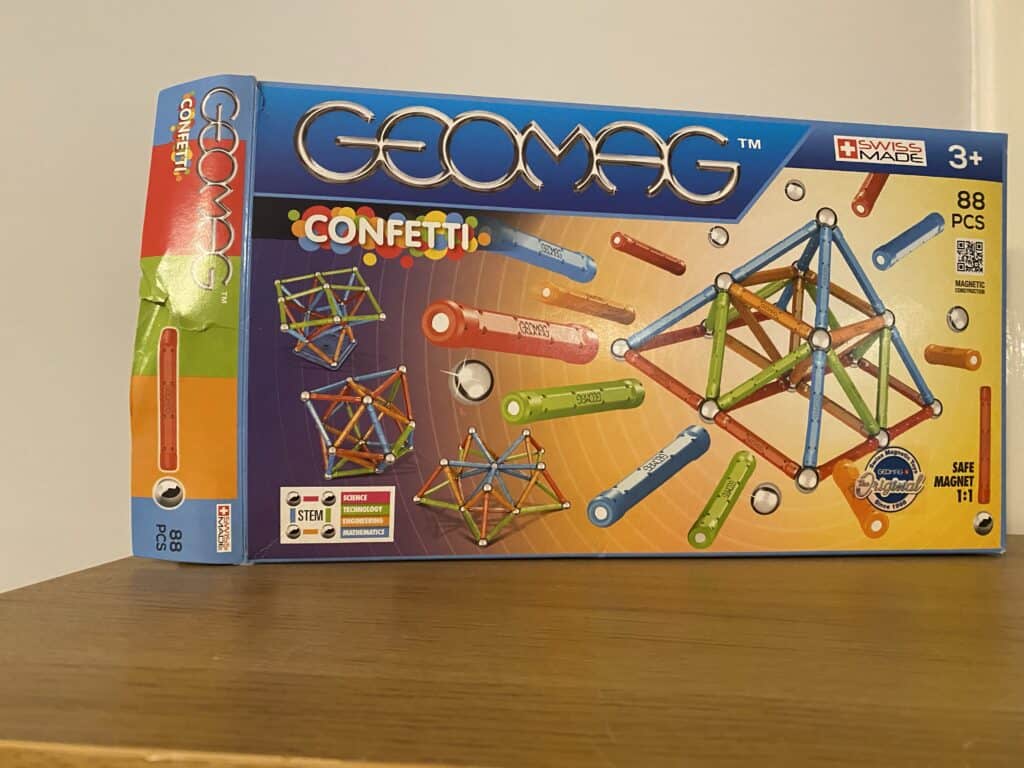 We receive the 88 piece set which contains
44 magnetic rods in 4 different colours
5 plastic parts
39 metal spheres
A little tip for when younger children play with these is to use a metal baking tray as the base of their creation. We do this so that all the magnetics stick to the tray and not go all over the floor and the table. With having a dog it's important that they don't go on the floor so we find this is the best way to ensure this won't happen. It also helps them to build as especially for Alby it gives him a stable base to work from.
Alby is three so is at the younger age that the Geomag confetti set is for. Alby really enjoyed building different creations. He found it frustrating at times as the magnet wouldn't stay in the positions he wanted. Or that they would repelled each other. So it did actually bring up some good conversations and exploration about how magnets worked.
He also found using the plastic parts to add to his creations a little hard but Ava being 5 was able to use these bits with ease. Ava was able to understand how these were to be used and built some amazing things with them.
Ava also enjoyed trying to replicate the structures in the instruction booklet. Which took some problem solving as she had to work out how she could make it all fit together like the pictures in the book.
I really liked that the magnets came in two little styrofoam boxes. It meant that at tidy up time the children had somewhere to put them. rather than them rolling around the box and getting lost.
With this set being 88 pieces it gave the children enough to play with at the same time. I think the smaller sets might be a little limiting so I would advise you can get the bigger sets. As it gives more opportunity for play and exploration. You can use different sets together so you don't have to keep buying the same set. Any of the sets from the Geomag range work together.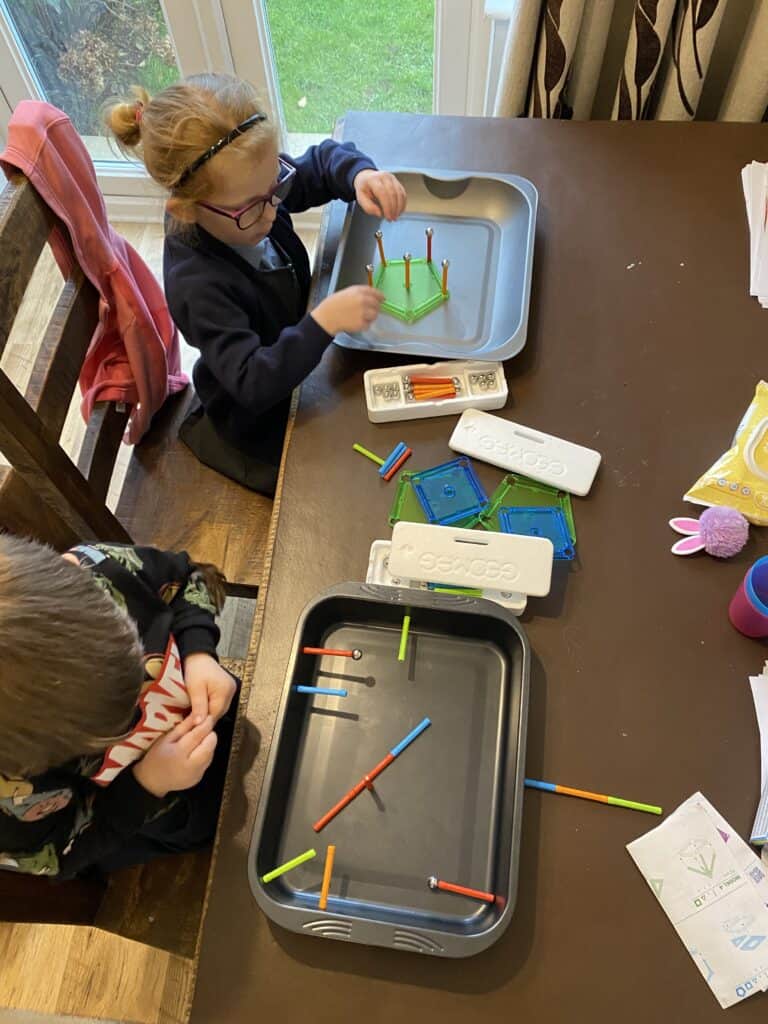 Our overall thoughts of the Geomag confetti set
The kids really loved playing and exploring the Geomag confetti set. They both played with it differently but both really enjoyed it. Ava had more patience when playing as Alby did get frustrated at times that the magnets didn't do what he wanted them to do.
It was great that playing with the Geomags led onto conversions about magnets and how they work. We even watched some YouTube videos about magnets which they really enjoyed.
Since having these they have asked for them time and time again. They actually play really nicely with them and it gives them time away from their iPad and telly and actually play with something.
Ava's has been able to explore 3D shapes using the Geomag magnets which is following on from what she has done at school. So they are perfect for bringing her lessons to life in a more tactile way.
The Geomag confetti 88 piece set can be purchased from Amazon for £38.79