Good Bubble bath products : review
As you may have guessed by now we love bath time in our house. Although in my later stages of pregnancy I found it hard to bathe Ava .So she hasn't had that many baths recently. Don't worry she has been having showers instead ! Now that I'm no longer pregnant bath time has come back and Ava is loving having a bath with Alby.
Recently we have been sent some Good Bubble products to try . I have brought many a bath products in the past based on how nice they smell. Only to get them home and use them and to be disappointed with how well the fragrance transfers onto skin and hair . Well I can honestly say Good Bubble products do not disappoint they smell amazing in the bottle and also on the skin and hair.
The entire Good Bubble range is at least 98% natural, full of fruits and free from nasties like sulfates, parabens,PEG and artificial colourings.Good Bubble products are made with an allergen-free fragrance. Also the formulations are tear-free and have been dermatology tested. Good Bubble are also registered with the vegan Society.
I have found Good Bubble products to be really gentle on Ava's skin and it hasn't aggravated Ava's or Alby's skin at all.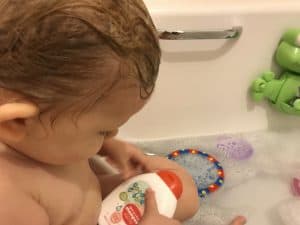 I found that the bottles weren't slippery at all once wet and the cap was really easy to open. The shampoo and conditioner left Ava's hair feeling and smelling amazing . If anything it made her curls look tighter and more defined which I love.