A good night sleep with Cosi bed sheet
,When Ava was born she was a really good sleeper , from day one she would go 3-4 hours during the night . We then got to the point where she would wake once in the night or not at all !. We were so lucky being able to have a good night sleep. Then at 4 months old she decided that sleep wasn't for her ,nothing I would do would make her sleep every night was a battle.
So I started to search for something that would help her to sleep. Ava loved to be swaddled as a baby so my first thought was a sleep sac but we found that when she started to roll she would get herself all tangled up in the sleep sac. I then came across the Cosi bed sheet it was everything that I was looking for and reading reviews on it and how well it had worked for others I was excited to give it a try. I had noticed that the bedsheet was very popular in Switzerland so I contacted the company and they were very keen to spread the word of the Cosi bed sheet in England. They kindly offered to send me one to try in return for a review.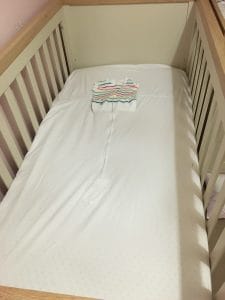 So the cosy bed sheet fits on to your little ones bed like a normal fitted sheet , it then has a strap that connects underneath to stop the bedsheet from moving. Each bedsheet is made specific to your requirements so will fit you mattress perfectly.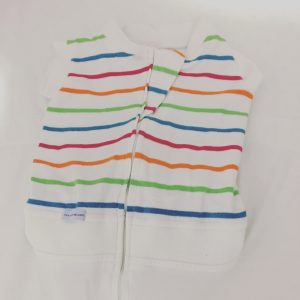 The top section is like a normal sleep sac but I found I had greater movement to get Ava's arms in and out.I also loved that the top of of the zip is covered with a material flap so not to rub your little ones face which I love !.
We have now been using our Cosi bed sheet for over a week and I can already see a difference In Ava's sleeping. As she doesn't get tangled up in a sleep sac or loose a blanket she has a more settled sleep. It was also fab when we had warm weather recently as she slept in just her nappy and he Cosi bed sheet and was at the perfect temperature. I did have to wash her Cosi bed sheet one night and I found she didn't settle as quickly and had a very disturbed night. As Ava loved to be swaddled this is perfect for her as she can feel safe and secure but also have freedom to move.
Like all new things you introduce to your child make sure they are ready for this new experience. I have had a few days of Ava being poorly so I waited till she was all better before starting using the bedsheet as I didn't want her to associate the Cosi bed sheet to being poorly.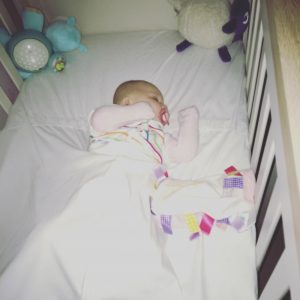 Cosi bedsheets are no just for children in their own beds they would be perfect for co-sleeping .keeping your little ones safe and secure. They can also make a double Cosi bed sheet if you have children that sleep in the same bed which I think is so cute !.
I wished I had know about the Cosi bed sheet earlier as would of made the transition from mosses basket to cot a lot easier. I will defiantly keep using the Cosi bed sheet even when Ava is in a bed.
For more information about the cosy bedsheet range visit the Cosi bed sheet website. If you wish to order a Cosi bed sheet please use the code jessh and I will personally make sure all is ok with your order as this company is new to selling in the UK.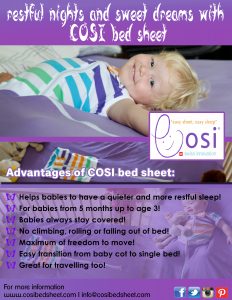 * I was sent the Cosi bed sheet for free in return for an honest review all opinions are my own *