Guardianfix 3 from Kiddy : review
For the past few weeks now we have been trying out the Guardianfix 3 from Kiddy . This is like no car seat we have ever used before as it has a safety shield and not a harness. so it has taken Ava some time to get used to it.
Safety features
Now when I first saw these car seats I was intrigued by the safety shield aspect. I had a look into how safe this car seat was. As you can never be too careful when it comes to the safety of your child. The Guardianfix 3 complies with all the latest safety standards for infant and children's car seats. At the moment you can forward face a child before 15 months as long as they are in a weight based car seat and weigh at least 20lb/9kg. Children must also remain in a high-backed booster until around 12 years old. .This car seat is suitable for both of these requirements. The Guardianfix 3 has a weighted based so therefore is suitable from 9kg. It also comes with a safety shield that sits across your little one ( until they are 18kg). This absorbs the energy of a collision so that the child's upper body can naturally roll over. Giving a low load on the neck region compared to the 5 point system.
The seat is fitted into the car using both the ISOFIX and the 3 point seat belt. The design means that the Kiddy Shock absorber absorb the energy acting on the 3 point seat belt. Which protects the child in the case of an accident or sudden breaking. The K-Fix+ connectors from the seat to the ISOFIX also make it possible for the seat to move away from the door in the event of a side impact. The Guardianfix 3 side impact protection components have been designed to give optimum protection for the child in the event of a side on collision. When designing this they did think about how children love to look out the window so they made sure it doesn't obstruct their view at all.
The seat is made from a high-tech material called 'Honeycomb 2' which can be found in the seat around the delicate head and shoulder area of the child. This material is designed to absorb the energy which offers more protection to the child.
One of the things I love about this car seat is that it grows with your child. A seat cushion can be used in the seat for younger children and removed once they reach 11kg.Along with the safety shield. Then for older children the back rest can be adjusted to accommodate growth in both height and width by simply squeezing the handle on the back of the seat with just one hand. The adjustable leg rest can also be extended .
There is also an eye level indicator on the head rest which is meant to align up with your child's eye level. I did speak to the Kiddy team about this as I was concerned that Ava's eyes weren't at this level. They talked me thought making sure the seat was properly installed which is was and told me to make sure that her bottom was right back in the seat. They did also suggest that children grow at different rates and some children may be smaller than others of the same weight. Therefore they wont meet this eye level but as long at the seat is installed and used correctly then it is nothing to worry about. In time her eyes will level up with this line.
When it comes to belting your little one into the seat it's so easy to know where the belt should go as the belt route is indicated in red. This helps to remove the risk of incorrect routing.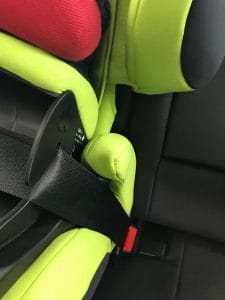 Ava is still at the age where she likes to have a sleep in the car. I have always worried about how she flops down when sleeping in her old chair. So I was eager to see if the Guardianfix 3 seat would enable her to sleep in a more safe a comfortable position. Well the K-Fix+ system facilities an increasing recline ( for children 9-18kg) and also the headrest can be adjusted. Meaning she was able to sleep in comfort.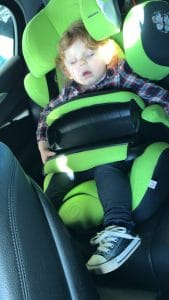 Fitting the Guardianfix 3
Now this is so simple to do and it can be taken out just as easily. You simply slide the seat with the connector out into your ISOFIX points at the back of the outer seats. You will know when it's connected properly as you will see green stickers on the seats fitting .
Your then ready to pop your child in belt them up and your ready to go. We have taken this seat in and out of numerous cars. As it's so easy to transfer no messing about with big bulky bases. It's all on the seat itself ready to be used. If you have a car that doesn't have ISOFIX fittings don't worry you can still use this seat. Due to the convenient retraction mechanism you can retract the K-Fix+ connectors into the child seat. Meaning that it can be used with just the car's seat belt.
How it looks
Now we do have the seat in a very vibrant lime green. So you're not going to miss it. Plus it is a lot bigger than many other car seats. You know what though I actually really love how it looks. The added safety features give it this unique look plus it look super comfy. There are 8 different colours to choose from and all have silver reflective panels on. which are fantastic as it means that if you're in an accident of a night your able to see your child's seat.
I also loved the detailing of the dots on the on the material. Which I have recently learnt means " Kiddy- we love our kids" in Morse code which I think is just adorable. The cover is easily removed and can be washed on a 30 C gentle wash. This is fab as our old car seat is so mucky due to Ava eating and drinking in her car seat on long journeys. Thankfully I can take the cover of our Guardianfix 3 off and wash it. So it always looks clean and new.
To keep your car seat smelling fresh they have added in a breathable 3D mesh fabric in target areas. The net like material increases air circulation whilst your little one is sitting it in.
Also if your planning to go on holiday then you can take this seat with you. As it has been approved for group 1 (9-18kg) use in aircraft. So not only can it protect your children whilst they are in the car it can protect them whilst in the air. As it has been suggested that a simple airplane lap belt may be a safety risk to small children in the event of turbulence or an emergency landing.
Overall I couldn't ask for a better car seat. It did take Ava some time to get used to it but once she did she loved it. She is comfortable and safe and that's the main thing. The seat looks amazing in the car and I have had so many people ask me about it already. We will be for sure looking to get Alby one once he is big enough. One big plus for us is how easy it can be put in and out of different cars. Which means it can go between both mine and Jordan's car with ease .
The Guardianfix 3 car shown above is the Spring green colour and is priced at £289.00
Want to find out more about the Kiddy Guardianfix 3 car seat then visit their website. Where you can also search for stores near you that stock this and other seats from Kiddy.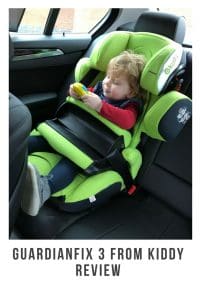 *We were sent the Guardianfix 3 for free in return for an honest review. All opinions are my own*