Gummee link and teethe : review
We still have no teeth but the dribble is going strong . I don't remember Ava dribbling this much so young . I'm having the change Alby multiple times a day just because he is soaked through with dribble . The teething pains are still going strong too . Poor thing although his new teething from Gummee the Gummee link and teethe sseems to help him a lot though.
You may have seen a few months ago we reviewed the Gummee Glove. Which we still love and is great to have in the changing bag for when we're out and about . They have recently sent us their link and teethe to see if this would help soothe Alby's teething pains.
The link and teethe consists of 3 different coloured links, x1 star shape, x1 Glove shape and x1 butterfly shape tether. The links attach through each teething shape. You can also use the teething shapes separately if you wished.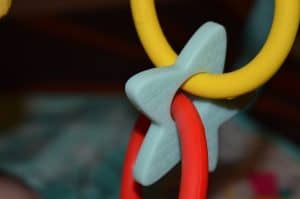 Alby likes it when he can hold one of the tethers and I hang the rest from the bar on his play mat.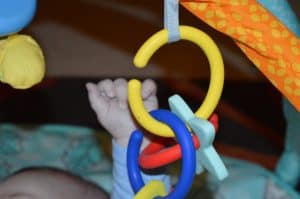 A little fact for you the brightly coloured links are the first links to be completely covered in silicone on the outside ! The links are also fab for chewing on as they emulate the feel of biting down on a finger. Alby is that child who loves to munch on your fingers so these are great. They save my fingers from getting chewed and soggy.
All parts of the Link n teethe are BPA, Phthalate and latex free . They also come in a handy carry bag . Although Ava did pull the sliding bit off the top of ours which is meant to close it. So we tend to have the Link and teethe for at home and our Gummee Glove for when were out and about.
Our overall thoughts of the Gummee Link and teethe
We really love this product . Alby has started to explore more with his hand and he can manipulate it really easily . The teether themselves are a great size meaning he can easily and confident pass them from hand to hand. The textured teethers really seem to soothe his gums.
They are really easy to keep clean I simply wash them in hot soapy water and then pop them in our steam steriliser.
I also liked the fact that I could use the teethers with the Gummee Glove . Meaning if I was cleaning the heart shape that came with the glove I could use one of the ones that came with the link n teethe in the mean time.
*We were sent the Gummee link and teethe for free in return for an honest review. All opinions are my own*