Hape wooden toys solar power circuit train set : review
We were sent the Solar powered train and circuit train set from Hape for free .In return for an honest review. All opinions are my own.
Hape wooden toys are one of my favourite brands for children's toys. Mainly because they go above and beyond .To ensure that their products and the production of their products are environmentally friendly .
I am a lover of wooden toys they look so much nicer especially Hape wooden toys . They last longer and most importantly are better for the environment. Hape wooden toys are some of the nicest wooden toys we have had. We were recently send the solar powered train and track from Hape to try. As soon as the kids saw it they were so excited. Train tracks are a recent love of Ava's. Since she has learnt how to put the tracks together herself. She is really enjoying creating big tracks for her trains to go around.
Solar- Powered train
I have to admit when I first saw that it was a solar powered train. I thought that it was going to move by itself. Sadly it doesnt but it does use sunlight to power the lights. There is no need for any batteries. Just simply charge it up by putting near some natural light. To see how much charge your train has you just simply press the button on the side of the train and it will display some lights. Red if it needs charging and green if it's fully charged.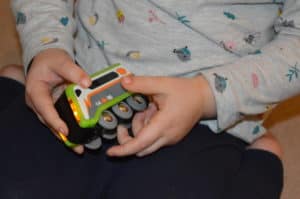 Ava had never seen anything like this before she is just so used to telling me things needed new batteries. So she was really intrigued with how it all worked. We talked about how the sun makes the batteries have power inside and when the light shows red she just needs to put it in the sun for a little bit to give it more power. I often see her checking the lights on the side to see what colour they are. If it's on red she then goes and sits by the window holding her train to the sky so the sun gets on it. I love the fact it's teaching children the importance of renewable energy which lets be honest is the way the world is going.
Hape train track
The track that we received with the solar powered train is made from Bamboo. After looking into why they used Bamboo I found out that bamboo grows 1.2m per day. Which is just fantastic and just makes sense that they would use something that grows this fast. Hape also plant one bamboo tree for every one they use. Which is one of the reasons I think makes this brand so amazing. They are constantly thinking about how they can be sustainable.
Both the train and all the plastic parts of the track is made from Bioplastic. Which is plastic made from Sugarcane. I wouldn't of known it was made from anything different if I hadn't read up on the set. It looks just like normal plastic but from reading I have seen that Bioplastic is meant to be more durable. Meaning this set will last for years and can be passed on to many generations.
We really liked the supports that you use to lift the track up. The track pieces clip into the top of them. Making the track really secure which is great as Alby likes to try and join in and he can be a little heavy handed. With other train sets we have had before the track normally rests on top of the supports . Ava then spends more time trying to prop them back up then actually playing with the track. How ever with the Hape track she didn't have this problem at all. It was actually really sturdy.
Our overall thoughts on the Hape wooden toys solar powered circuit train set
Overall I think this is a really fantastic train set. I love the fact that it teaches children in a fun way about renewable energy. They also really think about what their toys are made from and go one step further and plant a bamboo tree for every one they use.
Ava has really enjoyed exploring both the track and the train. The set does also come with some decorative trees, signs and a little figure. Some of the additional pieces are pretty small. So I would say keep this in mind if you are thinking about purchasing it for children under the age of three.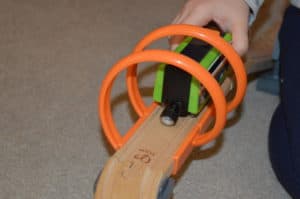 All in all I think it's a great set for children. The pieces also fit with some other tracks we already have at home. Which Ava loved as it meant she could make an even bigger track that took up most of my front room.