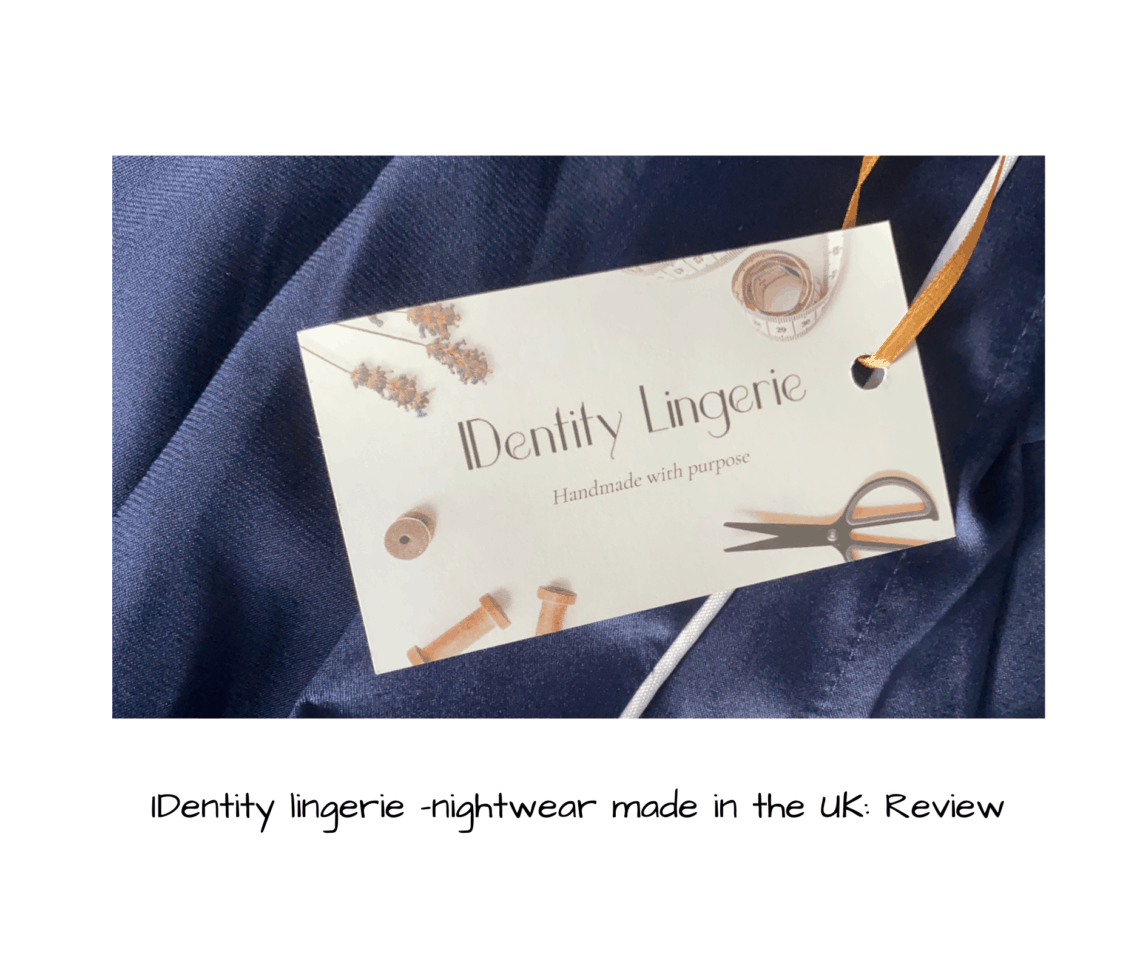 IDentity lingerie -nightwear made in the UK: Review
I was sent the items below from IDentity lingerie for free in return for an honest review. All opinions are my own.
There is nothing better than at the end of a long day coming home and getting in your pyjamas. If I'm honest I probably spend more time in my pyjamas than any other of my clothes. So it's only right that your nightwear is just as comfortable as your daywear. Actually, pyjamas should be the most comfortable thing you ever wear.
I have recently been sent some beautiful pieces from IDentity lingerie to try and to share with you. Now I have never owned any silk pyjamas I always thought they were too fancy for me. However, after being sent these items to try I can confirm that silk nightwear is the way to go. Yes, it's fancy but oh my gosh they are so comfortable. I know that this is largely down to how amazing everything fits and the quality of the silk but IDentity Lingerie have shown me that I need to buy silk pyjamas more often.
Japanese silk green short pyjamas
Whilst looking through their website these pyjamas set instantly jumped out at me. The green is such a rich and beautiful colour and the contrasting golden piping just finishes it off perfectly. I also thought from looking at the pictures on the website that the shorts look a good length. Which for me is a big thing with shorts. I very rarely buy shorts for bed as they just ride up during the night and can become really uncomfortable. I can honestly say these are some of the comfiest shorts I have ever worn to bed. They don't ride up at all. The elasticated waist allows for movement whilst sleeping and doesn't dig in at all.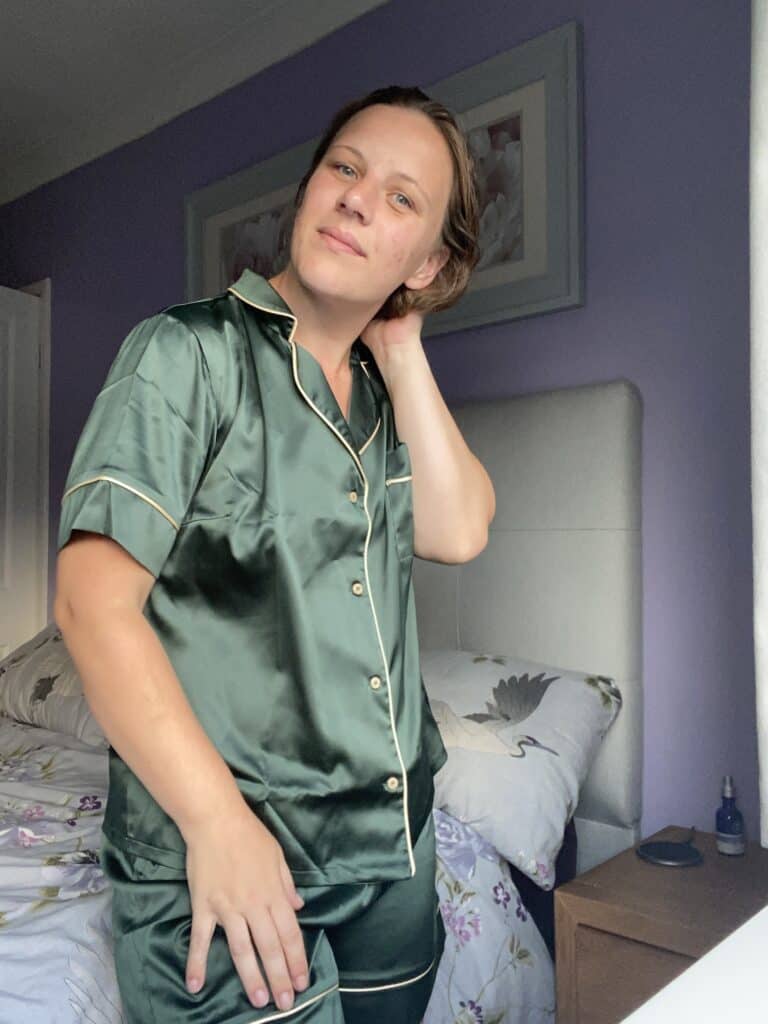 The top is also perfect, it's loose but not too loose. If that makes any sense at all. It feels so comfortable and the buttons don't pop open during the night. This set is honestly just perfect I would for sure buy silk pyjamas from IDentity in the future when I want to treat myself. Or maybe add them to a Christmas wishlist.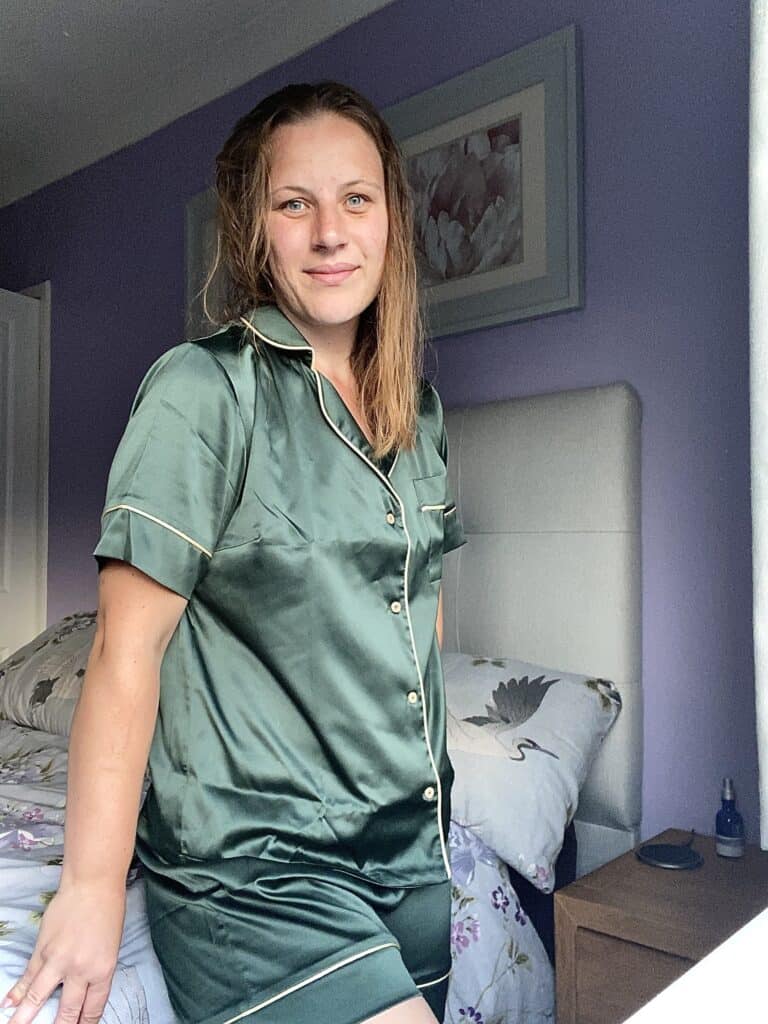 I got the Japanese silk green short pyjama set in a Medium and is currently priced at £70
Navy Japanese Silk Long Dressing gown
Again this colour just jumped out at me when I was looking through their website. It's such a rich and elegant colour and again very fancy but really flattering. Being 5ft 7 this is full length on me which for me is perfect as I like to wear a dressing gown all year round. So It will keep me nice and warm during the winter months also.
Just like the pyjama set the Navy dressing gown is finished off with beautiful contrast piping. Both pieces are made so well and they have really thought about all the finishing touches. The silk is super soft and feels amazing on my skin perfect for helping me to relax after a long day at work or with the kids.
The Navy Japanese silk full length dressing gown is currently on sale for £59.90 and I am wearing it in a size M.
A little bit about IDentity Lingerie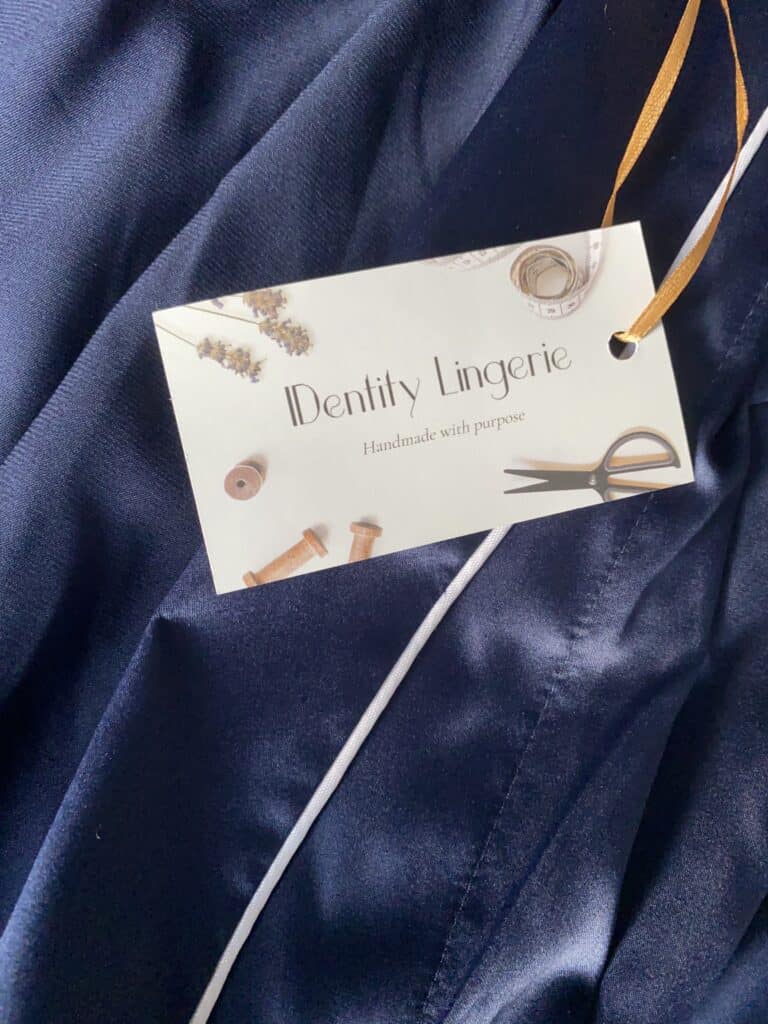 IDentity does all that it can do to ensure that they are environmentally friendly. This includes making products on demand when orders come in, refurbishing any returns and using sustainable materials. All their products are also ethically made under European labour law.
Another thing I love about IDentity Lingerie is that it's a small business. Where I can I like to buy small. As there are so many amazing small businesses out there just waiting for us to find them.
I also wanted to highlight how they use models of all sizes. This really speaks to me, as someone whose body has been different sizes and continues to change. I always have that voice in my head saying you won't be able to wear that. However, it was really refreshing to look at their products being worn by women of all sizes.
They are also currently offering a free facemask with every order to help stop the spread of Covid. Which I think is lovely as even though facemasks aren't mandatory anymore majority of people are still wearing them.