Leesa mattress unboxing and review
Since becoming a parent I have learnt that sleep is so important. If I don't get a good night's sleep I really find the next day a struggle. The amount of sleep I now have is less than ever before. Ava generally sleeps through the night and Alby wakes about once. Which yes I know is really good but where as my days used to start at say 9 they now start at 6. I used to not be able to function with less than 8 hours solid sleep. Now if I get 8 hours solid sleep I feel like a new woman ready to take on the world. To help me have a good sleep we have been sent a new mattress from Leesa.
Now in the past when I have brought a mattress I have taken a trip to our local bed shop. Spent too long in their trying different mattresses that are meant to do different things for me. It then gets delivered and I have to lug it upstairs and put it on the bed. I have never had a mattress that I think oh this is amazing. One that is so comfy I don't want to get up in the mornings. I have always been a bit disappointment as they didn't do all the things that they said they would. So I was a little worried that the Leesa mattress would follow in the same footsteps.
I went online and ordered our mattress using a code I have been given by the brand. Which enabled me to get our mattress for free in return for an honest review. The online ordering system was really easy . It said that my mattress would be at least 4-7 working days. Which I thought was a fair amount of time for it to be delivered. I was however very excited when my mattress came before the date they suggested it might come. I did get an email to say that my mattress was on its way. You also get a tracking number so you can see where your mattress is and what time it will be delivered.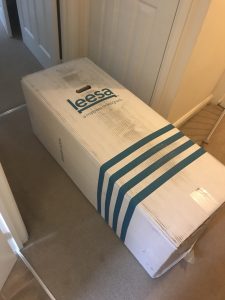 When the mattress arrived I was really surprised by how small the box was. Surely there wasn't going to be a full-sized double in the box. I did start to worry that I had order the wrong size. Anyway I took the box upstairs. I will add I did this all by myself and was able to get it upstairs fine. I wouldn't say with ease as it was a little heavy but that's to be expected as it does have a mattress in the box.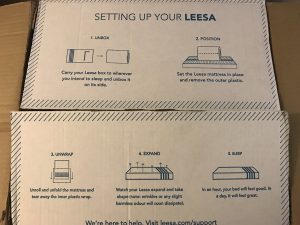 On opening the box I noticed it had some instructions in the opening flaps. I just want to say I did read the instructions but I was sorting it in the middle of dealing with a poorly child. So the video Below does show me moving the mattress round a little until I get it in the right position. My mind really was somewhere else and if you read the instructions and actually take them in you wont need to do this.
I cannot belive that the mattress just puffs up like that . It really is amazing this sausage shape quickly became a full size double mattress. My mind was blown a little. I was also a little dubious about how comfortable it was going to be. Surely it cannot be that comfy as it seemed like there was nothing but air inside the mattress. How wrong I was.
Leesa do suggest that it takes 24-48 hours for the mattress to fully expand after coming out the box. We did find this to be true as on the first night Jordan said it was lower than our mattress as it didn't come up as high on the foot bar section on our bed. By the second night I would say that it was the same thickness of our old mattress. We haven't had to change and of the sheets on our bed as they fit the same as they did on our previous mattress.
To start with I did find it a little weird as when sitting on the mattress I expected to bounce a little as I did on my old one. Instead I slowly just sunk into it as if I was sitting on a marshmallow. The mattress actually has three premium layers of foam. So no matter what way you sleep on your back,front or side you will have a comfy sleep. This is prefect if your sharing your bed with someone. As each side will adapt perfectly to each person. This is great as both me and Jordan sleep in different positions and normally mattress don't suit both of us.
I have also found since using the Leesa mattress that I'm less hot of a night even in this heat wave were having. I have found myself a lot cooler on a night which is amazing as I do get warm when I'm sleeping even when its cool.
How did we sleep on the Leesa mattress
The most important part how did we sleep. Both me and Jordan have slept so much better since having the Leesa mattress. I love how when you first lie on the mattress it feels hard but then mattress contours around your body making it so comfy. Jordan is one to move around in the night and I no longer feel him tossing and turning around. For the first time in ages I'm actually waking up feeling refreshed. You know those mornings when you think gosh I have had an amazing sleep. I'm having more and more of those nights. I'm finding I fall to sleep a lot quicker as I'm comfier.
We wont be taking them up on it but Leesa do have a 100 day money back guarantee. So if do find your sleep hasn't improved then you can use their 100 day money back guarantee. I'm very confident thought that this isn't used a lot as this mattress is so comfy. Along with their 100 day money back guarantee they also have a 10 year warranty on all their mattresses. Which means if there is a fault with the mattress they will replace it for us. I also love a company that give a little back and Leesa do just that. For every 10 mattresses sold they donate a mattress to someone in need. Which makes it even more worth while buying a mattress from Leesa.
As part of our collaboration with Leesa they have very kindly given me a discount code to share with my readers . If you head over to their website and enter the code BEAUTIESANDTHEBIBS at the checkout you can get £100 off any size mattress !!!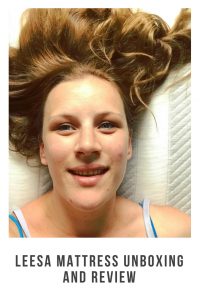 *we were sent our Leesa Mattress for free in return for an honest review. All opinions are my own*