Mama + Belle teething jewellery review
Teething !! it can be a horrid time for both parents and children. I was pretty lucky with Ava she didn't really show any signs that she was teething apart from maybe dribbling every now and again. My friends how ever have told me some right stories about their children when they were teething. From not sleeping or eating to being really clingy and not wanting to be put down. I can already tell that Alby is a complete different child to Ava. He is already more needy than Ava. So I know that when he starts teething I may just lock my self in a dark room and not come out until he has finished. I'm joking ! but I have got a feeling I'm going to need some help with teething this time around. This is where Mama + Belle come in.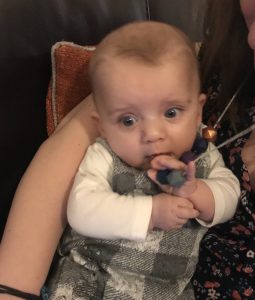 Mama + Belle have very kindly sent me two pieces of teething jewellery to try. I put these straight to the test as I have noticed over the last couple of days. Alby has started to dribbling a lot, rubbing his finger along his gums and also his gums have become very hard and red. So I'm sure we are starting the teething phases.
One of the reasons I love Mama + Belle is because it's founded by a mom of two. Being a parent herself I believe has given her this insight and knowledge into what exactly is needed from teething products. When we first got chatting to Mama + Belle they asked us to take a look at their website and decide on what products we would like to review. I can assure you this wasn't an easy task. As they have so many beautiful products in so many amazing colours.
Then I came across The Ava peacock teething necklace. I mean it's just meant to be. Not only did I love the name I loved the colours. Day to-day I normally wear blue/green so I knew that this necklace would go with a lot of my outfits. It Also has their new shape icosahedron beads which I thought looked really interesting and unlike anything I had seen before.
When I showed my mom the necklace she was like surely that cannot be safe if he pulls that around your neck. Well how wrong she is all Mama + Belle teething necklaces feature a breakaway clasp for added for extra safety.
The beads are strung on a nylon cord and each bead is knotted in place for added safety.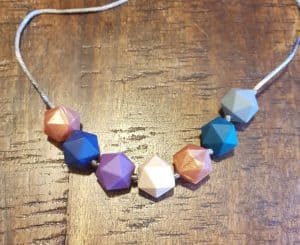 Mama + Belle products are also made from high quality, BPA free, food grade silicone. They are also really easy to keep clean. I pop mine in our steam steriliser each morning after I have given it a quick wash over with warm soppy water. If you don't have a steam steriliser you can also pop it in a dishwasher ( top shelf). Or just simply washing it in hot soapy water will be fine. I also liked the handy little PVC bag the products came in. As I could pop them back in there when not in use. These are especially handy for when putting them in my changing bag if I didn't want to wear them all day.
The second product I chose was the Amelia spruce + warm marble teething bangle.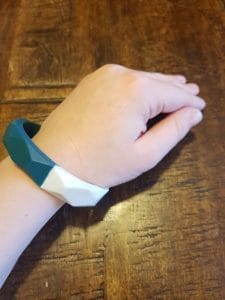 Again I loved the colour and they are perfect for co-coordinating with my wardrobe. Now I have never used a teething bangle before so I was intrigued to see how this work. I wear a Pandora bracelet everyday.Alby has started to tug on it or try to put it in his mouth. So this came at a perfect time. He was able to grasp it with great ease as it's pretty chunky and it's saved my Pandora from being sucked. Also if you were to buy one of their dummy/teether clips it can be attached to these. Making it a great teether and a gorgeous looking bangle. I cleaned this the same way I did the necklace by putting it in the steriliser.
The Ava peacock necklace is priced at £17.95 and the Amelia spruce and warm marble bangle is priced at £8.95. You can buy Mama + Belle products from their website, John Lewis and many other stores just take a look at their stock list on their website.
Overall I'm really happy with the Mama + Belle products I was sent. They have saved my Jewellery from being chomped , they look amazing and most of all they seem to be giving some relief to Alby's sore gums. I'm sure once Ava is 3 we will be purchasing from their kids range.
*We were sent the products shown above from Mama + Belle for free in return for an honest review. All opinions are my own*