My-picture – picture book review and Giveaway
Ava really loves looking at pictures of family and friends. She often sits with my phone and scrolls through the pictures talking about the people she can see. Or walks around our front room with one of our picture frames that has a picture from my brothers wedding in it. So when the people over at My-picture.co.uk asked if I would like to review one of their products. I knew straight away that I would love to review one of their My photo books.
I remember as a child looking through photo albums of past holidays and memories. It made me think we very rarely print pictures off like this anymore. So a picture book would be great. Get back to basics get rid of technology and looking at phones and sit down with Ava and look through a book full of pictures of the people who are special to her.
So I headed over to My-picture.co.uk and started to compile our picture book. You can pick what design you would like for the outside and also what layouts you would like on the inside. For most of the pictures on the inside I kept to the standard layout. I did however have to change some of the layouts as I found when using the bigger pre loaded layouts that it would say the picture quality was too low. This did happen on a lot of my pictures as they are mainly taken on my phone. I did find how ever if I made the pictures smaller it made the quality of the photos better.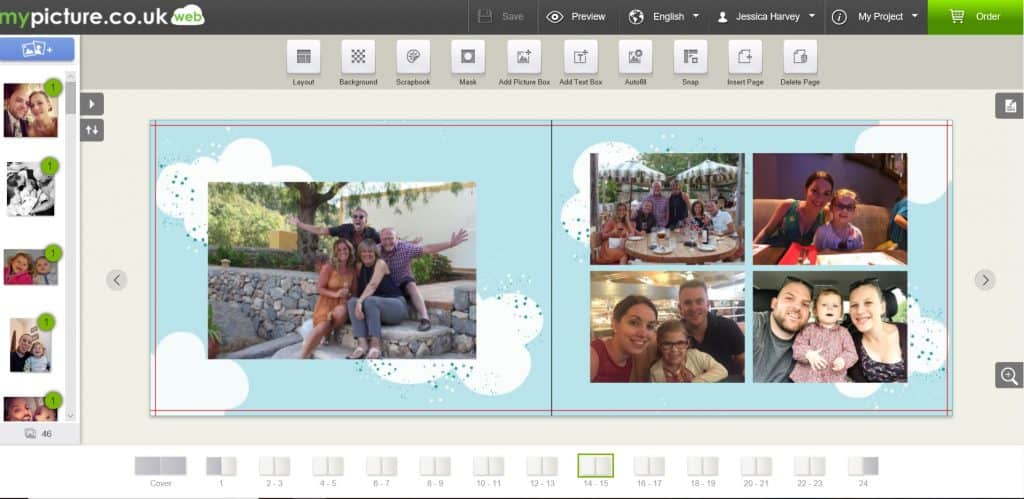 For the outside of the book and the pages I picked a cloud design as it reminded me of the Toy Story clouds. This is Ava's favourite film at the moment so I thought it would be a nice touch.
After fiddling with all the different pictures and making sure that they were where I wanted them I placed my order. Our photo book came very quickly and was in perfect condition. I was a little concerned about ordering something like this online as I wasn't sure it would get to me in one piece. I needn't of worried as all was fine and I'm so happy with how my photo book looks. The hard cover is super glossy and looks so much more expensive than it is. The pages are of good quality and all the pictures look amazing. I am so happy with it.
So I sat down with Ava and showed her the book and she was so excited. This Photo book has all the people in it that are special to her. It has documented some of the memories we have made over the last two years with her. It also includes some adorable picture of her and Alby. I'm sure it's going to become a very treasured and loved book. I think I'm going to make a habit of doing this sort of thing for the kids to keep those happy memories alive. Maybe after each birthday or holiday would be nice.
Jordan also had a really lovely idea to make to book extra special. At the start and end of the book is a blank page. He thought it might make a nice touch to get all the people in the book to write a little message. Which I just think is an adorable idea and one I really want to do.