play the Forest school way : book review
Before I go and tell you about how much I enjoyed this book I thought I would tell you a little about forest school. Many of you may have heard about forest school as many schools and nurseries now run sessions which is great for the children's development.In a nutshell Forest school is about taking the class room outdoors and is bases on the philosophy of nature-based play and learning that encourages children's confidence and self-esteem. Forest school is not just for nurseries or school time you can easily do forest school activities at home. You may already do some of the activates without knowing.
This book shares some of the loved activities from Jane Worroll's and Peter Hougton Forest school. The activities In this book are aimed for children between the ages of 3-11 years, when you look through the book each activity states the age group it is for. The activates range from scavenger hunts to learning how to tie knots. It also tells you what equipment you will need in order to do the activity which is great so you can plan ahead and also suggests what your child will be learning about during the activity.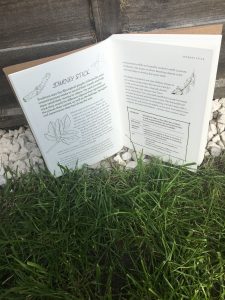 Each page is beautifully illustrates with cute little woodlands drawings and I think it makes the book more appealing to younger children that may not be able to read. From the pictures they will be able to see what the activity may be and join in with the planning and preparation for the activity.
I really love this book and I love the ethos of Forest school getting children to explore the world around them is so important and is fantastic for their development. I would defiantly recommend this book for all parents or anyone that wants to know a little more about forest school activities . I cannot wait till Ava is bigger so I can explore the outdoors with her but I will defiantly be showing this to the nursery staff I work with so I can inspire them to do more outdoor learning.
This books is priced at £12.99 and can be brought from Amazon and whilst looking on their I saw its also available in a Kindle edition for only £7.
*I was sent this book for free in return for an honest review . All opinions and photos are my own *