Summer infant pop n sit booster chair :review 
Me and Ava have a busy life we're always out and about in the day , normally when it's lunch time . I tend to stick to the same places as I'm always worried about there being a suitable high chair. Well recently summer infant have made my life so much easier by sending me the pop n sit portable booster chair to review .

At first I wasn't to sure how sturdy it was going to be as it flattens really small . How wrong I was . Ava isn't one to sit still whilst eating and she hasn't been able to topple It over . Once the chair is fully extended its as secure as many bulky plastic booster chairs I have seen. The tree point locking system harness keeps Ava in a safe sitting position .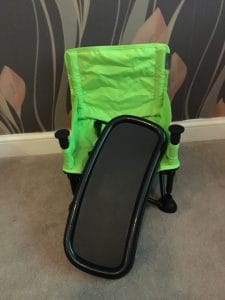 The pop n sit booster comes with a detachable tray that is BPA free . Making it great for placing your little ones food on at meal times . Or even playing with their toys on . The tray is also dishwasher safe making the clean up after meal times so much easier .
There is also a fab litre carry case that the chair fits into whilst folded down . Making it easily transported to all the places you may need it.

I love the fact that it can be used both on the floor or on a chair . Meaning your little ones can always be involved in meal times. The booster is easily attached to a chair using the straps provided . These straps can be altered with ease depending on what chair you're using.

The pop n sit chair is always in my car now . So Whilst out and about I will always have somewhere for Ava to sit . Especially when going to family and friends houses that don't have children.


I am really impressed with the pop n sit booster . It's made meal times out so much easier .As I know I will always have a somewhere for Ava to sit . I cannot wait to use this more in the summer whilst having picnics in the sunshine.
* I was sent the pop n sit for free in return for an honest review . All opinions and photos are my own *
Summer Infant do some really great products why not take a look at our Summer infant LIV cam review. Or pop over to their website to view more of their fantastic products.