Safe in the water and the sun thanks to Splash About
We were sent the Splash About products shown below for free . In return for an honest review all opinions are my own.
We have just been on our first family holiday to a Heaven site in Wales . We had big plans for our first family holiday. One of the big plans was to go swimming everyday either using the two pools on the site or the beach if the weather was nice.
Ava has been swimming many time before and is now pretty confident in the water. Previously we used foam armbands . Although they are good they don't allow her to be in the correct position for swimming .Which was really starting to frustrate her as she was really trying to swim properly.
Splash About float suit have been designed to ensure that the floats are arranged to hold your child in the correct swimming position. Which I was really interest to try out . The floats can also be removed. So as your child's confidence grows in the water you can adjust the buoyancy system . Which I personally think is fantastic . As it means your child can keep on using the float suit as their confidence grows.
Putting the Splash About float suit to the test
The first thing I really liked about the Splash About float suit is that it has a zip on the back . This is so handy for when you need to get the suit back on when it's wet. Because you know as soon as you get in the pool they will want a wee !
The float suit did take Ava a little while to get used to it. To start with she just kept flipping over as she wasn't used to having her body in the correct position . But once she got used to it she was able to swim across the pool independently. She was so excited it was the first time she was able to swim properly without me or her dad holding onto her.
The fabric looks as fresh and the colours as vibrant as it did when we got it out of the packet . Even though it's been in and out of a chlorine swimming pool all week . It washes really well in the washing machine also.
It also offers UPF 50+ sun protection making it perfect to use down the beach as well as the pool.
For Alby I picked the Toddler 3/4 length UV under the sea suit . Again this has a zip up the back making it super easy to get on and off even even wet.
The main reason I went for this was because I wanted something that covered a lot of his body. Something that would protect his skin from the sun. The UV suit protects little ones is UPF 50+ against UVA and UVB rays. Which gives me a piece of mind that the majority of his body will be protected whilst out in the sun . Not only is this perfect for when on holiday but it will be great to wear in the garden on sunny days.
The material is super soft on his skin and also protects against wind and sand . Which was perfect for the beach in Wales.
He looked so adorable and super comfy . It's form fitting but comfortable and fitted him really nicely . Alby had a 2-3 years suit which I thought may be a little big but it actually fitted him well.
Our overall thoughts
Overall I'm really impressed with the two Splash About products we have been sent . In particular the float suit. As it enabled Ava to be more independent in the swimming pool. It also made her get into the perfect swimming position so she was more confident in the water . Which is obviously a winner .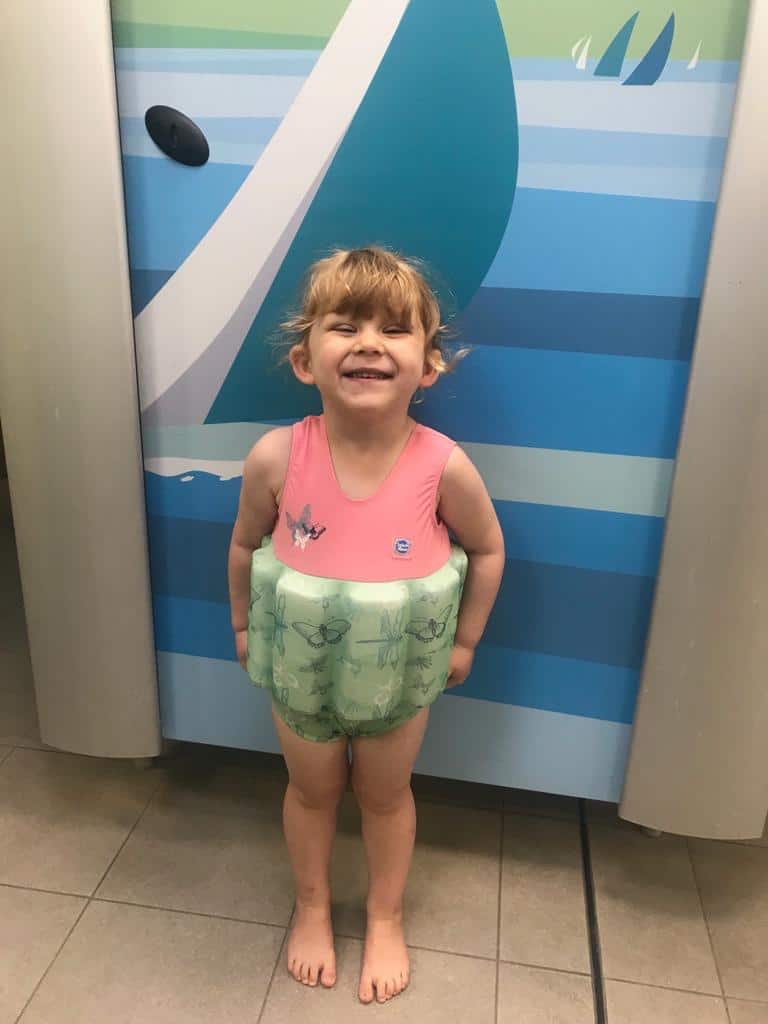 You can find both products and lots of really other fantastic items on their website.