Getting the kids ready for nursery with Stikets name labels
I cannot quite believe I'm writing this but in 3 months time I'm going back to work . Which means the kids will be going to nursery ! So I'm already starting to get things ready for them .
This time though Ava will be going to a pre school and they do forest school once a week amongst other fun additional activities. Which means on some days she will have to take a lot of things with her.
Any parent who has ever sent their kids to nursery will know . That the more things they take with them the higher the risk is of them loosing something. Probably that all in one wet suit you walked town for.
So in a bid to help us not lose anything Stikets have sent us some name labels to use on their belongings. The girls at nursery will be laughing when I send them in as I will be that parent who labels everything . I even put a label on Ava's dummy last time as the thought of another child using it by accident kind of grossed me out.
Stikets very kindly allowed me to create stickers for both Ava and Alby. So I headed over to their website to create some name labels. I will be honest it took me a long time to create them . Not because the website is hard to navigate. Because there is so many design options to choose from . You can pick the back ground colour, the font and also a picture you can have on them .
In the end I decided on the blue/ green colour combination with a monkey on for Alby .
pink/purple combination with a bunny on for Ava.
I opted to have their full names on them as I know last time Ava was at nursery there was another Ava so I though this would make it less confusing. You can if you wish to have your mobile number on them. Which would be fab if you're designing some luggage labels.
What's in the Stikets basic pack ?
In the basic pack you will get
48 small iron on labels,
82 name stickers ( 36 mini , 24 small , 20 medium, 4 big)
8 shoe labels ( 4 pairs of shoes )
2 luggage tags
The last item in this pack blew my mind a little. You now get 2 tags that include a QR code to facilitate the location of lost luggage. It allows the person who has found your luggage to contact Stikets. Who will then send someone to pick up your luggage and send it back to you !!
I used ours recently when we went out . I wanted to take my big camera with us . So I put it in a rucksack and attached the tag. I was happy with the thought that if my bag got misplaced . It would have more of a chance to making its way back to me.
I have put the sticker through some test to see if they were as good as they say they are. I put a few labels on Ava's drink cups and put them in the dishwasher. They didn't come off at all didn't slide out-of-place . They looked just as good as they were when I first put them on even after a few washes.
I also used some of the iron on ones on Ava's bunny. As it makes me want to cry a little at the thought of loosing it. I have even thought about using the tag but wasn't sure if that was a step too far . The iron on labels work great aswell and take seconds to bond to the material . Ava cannot pick them off which is also great as she used to do this with other name labels we have.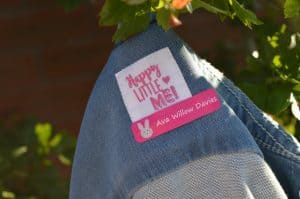 My overall thoughts on Stikets
We are big fans the stickers are of high quality and are really durable. They stay bright and vibrant even after going though the wash .
The basic pack contains so many name labels and it's only £ 19.95 a pack if you do order more than one pack you get £6 off at the moment. These packs will last us for a long time to come ! We also got a free gift which was a nice surprise with our order.
They don't just do name labels either . They have some fab ID bracelets and embroidered badges which look really cool .
Don't be that parent leaving it till the last-minute to sort out name labels for your kids. Get ahead of the game and get some from Stikets.
*We were sent the two basic packs shown above from Stikets for free in return for an honest review. All opinions are my own*