Making sure your food is hot with ThermoPop : Review
I always worry about Ava's food not being hot enough especially whilst eating out and about. So when I was recently asked if I would like to review the ThermoPop food thermometer . I was hoping this product would put my mind at ease.
The ThermoPop thermometer is a pocket-sized water proof thermometer so makes it perfect for keeping in your changing bag to check food whilst out and about. It also comes with a handy cover to keep the probe nice and clean whilst not in use.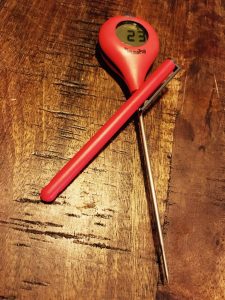 How to use the ThermoPop
First of all you need have to turn the unit on using the power button which is located on the t unit. Then simply insert the probe into the food, wait a few seconds then your temperate will stabilise on the scream and then display the temperature.
The ThermoPop also has a handy rotate mechanism. Meaning what ever way you put the probe in you are able to see the screen. All you have to is press the rotate button on the rear of the unit and it will rotate at 90 degree with each press.
How hot should my food be ?
You need to make sure that the core temperature of the food is at least 75 degrees .This will ensure that all harmful bacteria is killed.
What we thought of the ThermoPop
I really liked using the ThermoPop it really did put my mind at ease especially whilst eating out. It's really quick and easy to use. As its small I was able to carry it around in my changing bag. The probe cover keeps it nice and clean ready for the next use. I did also use an anti bacterial wipe on it once done just to make sure it was super clean.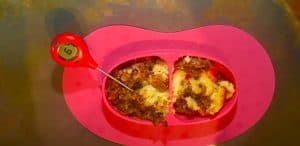 I have also used it in my fridge to check that my fridge was working at the correct temperature. As we don't have a temperature gauge on ours. The ThermoPop indicates temperatures in the range of -20 degrees to 300 degrees.
The ThermoPop is available in three different colours, red, white and blue and is priced at £19.20
* I was sent the ThermoPop for free in return for an honest review. All opinions and images are my own*