Twistshake bottle and hot and cold bottle : review
Baby bottles now there are loads of different ones on the market these days. Which one do you go for it can be so confusing and all you want to do is do right by your little one. Well the last couple of weeks we have been trying out the Twistshake anti colic bottle. We haven't used this bottle with Alby before . So i was a little concerned he wouldn't take to it as its a little different to his normal bottle. But we had no problems at all Alby drank from his Twistshake bottle like he would his normal bottle. In fact we have been finding with his normal bottles the teats keep collapsing. We have changed the teats and it still happens. But when he used the Twistshake bottle it didn't collapse at all and he could enjoy his whole feed without any interruptions.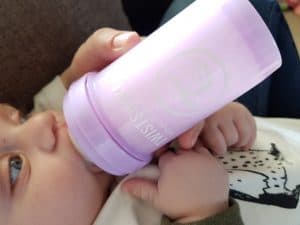 What's so special about the Twistshake bottle ?
I bet your thinking yes so its another bottle and your baby likes it but why should i buy it. Well have you ever fed a formula fed baby and all the powder clogs the teat up . I know i have and its normally when I'm doing the night feeds. The Twistshake bottle has a mixer net which actively dissolves clumps. Genius right ! it does actually remind me a little of my partners protein shaker as his has one in. Also the wider neck means that its easy to get the powder from the pot with no mess !! . Also The wider neck and bottle makes it so much easier to clean. There are no hard to reach places ! meaning cleaning bottles is so much easier.
Other features of the Twistshake bottle
BPA-, BPS- och BPF-free –
PP-plastic – Manufactured in premium, high quality polypropylene
Teat – Made from silicon, there are also a range of different teats available for different ages and flows . Also if your child prefers a spout to a teat once they are 4 months there is a spout option.
Anti-colic valve – Twistshake's unique system reduce baby colic
Ergonomically designed – grip-friendly, for both parent and child
Twistshake's uniquely designed flow system Twistflow ensures that your child enjoys their meal comfortably by preventing excess air from entering the baby's sensitive stomach.
It's also dishwasher and microwave safe.
It also comes with a pot that you can pop your powder in and can then be secured inside the bottle keeping it all in one place. This is so handy for when putting it in the changing bag. When your little one no longer has milk this powder pot is handy to store snacks in whilst your out and about.
Another thing that is great is that you can mix and match all the Twistshake bottle parts. This is great for me as for some reason I get bored of having the same boring bottles. So being able to interchange the pieces is great. There is a wide range of beautiful colours to chose from and there are three different sizes 6oz,8oz and 11oz.
We were also sent the Twistshake hot or cold insulated bottle
The Twistshake hot or cold insulated bottle has a capacity of 420ml and is made from the highest quality stainless steel. It also keeps your drinks hot or cold for up to 10 hours. If you have a baby that likes to have their bottles warm then this is perfect for you. Fill it up in the morning pop it in your changing bag and its ready for when you need it.
I liked the fact that it had a wide opening which made it really easy to pour the water out into Alby's bottles whilst out. Aldo the super soft rubber coating made it really easy to hold and I couldn't feel the heat of the contents at all. It's easily washed once your finished with it. I would say make sure to shake the lid after washing as water can gather inside the lid.
I have also used this to keep a hot drink inside for myself. When your a parent It can be hard to get a chance to make a hot drink let alone drink one. So in the morning if I know I'm not going out I would make a drink up inside of it. Then when I had the chance to have a drink I would pour some out and leave the rest for later on in the day! There is nothing better than a warm caffeine boost and this made it possible. Maybe not what it was manufactured for but it's certainly come in handy.
You can purchase your very own Twistshake products over at the Hippychick website.