A different way to advertise your brand- USB makers – Review
We were sent some branded USB's from the USB makers for free in return for this post. All opinions are my own.
Getting your brand or business out there is hard . Advertising can be an expensive game and in my day job of nursery marketing manager . I have had first hand experience with how the smallest of advertising ideas can end up costing a lot of money. Money that a lot of small companies don't have spare to spend .
Recently USB makers got in contact with me and was shared with me the different ways they can add your logo to a variety of different USB's . Now this isn't something I had seen before so it got me intrigued . I know a lot of people save things to clouds nowadays but sometime it is handy to have a USB.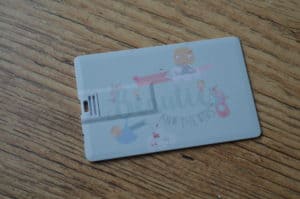 So we got chatting about the different styles they had on offer . The one that stick out to me was the slim card. It perfectly fits in my purse . So I won't forget it and would be great to hand out to people as a marketing strategy. Something they may keep in their wallet or purse just incase. But then every time they open their purse they will see my branding .
So they very kindly put my blog logo onto their slim card usb. I am over joyed with how they have come out. They look so professional and they also offer a 24 hour express service which is perfect if your a last minute person like me.
The whole process from designing to delivery was really simple. Their website is so easy to navigate through and they were delivered as promised in 24 hours.
So if your looking for a different way to get your brand or business out their I would definitely say give this some thought.
They very kindly sent me multiple branded USB's so im going to be putting my most current blog stats and work with me document onto it. So I can share them with brands when I next go to a blogging conference.