Weaning made easy with the Béaba Babycook plus
When I first started to think about weaning Ava I really wanted to make everything myself so I knew exactly what she was having. I did try a few times but found the equipment I had just didn't do the job good enough and was really time consuming. So sadly I had given up on homemade meals . So when I was approached by Béaba to see if I would like to review their Babycook plus I was over the moon. I was hoping that this piece of equipment would help me achieve the goal I had in the start to give Ava homemade meals.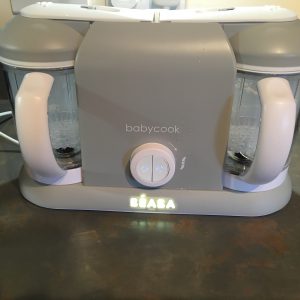 The Béaba baby cook is such a handy piece of equipment as it can steam,blend,defrost and reheat. As this one is the plus model it has a XXL capacity meaning you can prepair large quantities of food.
The instructions made it seem really simple so yesterday I put it to the test I wanted to steam some carrots for Ava to eat and also steam and blend down some apples for Ava's pudding.
It really was as simple as the instructions made out you just had to pour some water into the top section, place In the items you want to steam secure the jugs and press the buttons on the front so the steam function will start. The Béaba logo on the front will light up and so will the buttons.Once the cycle is complete the unit will make a beeping sound and the lights will go off.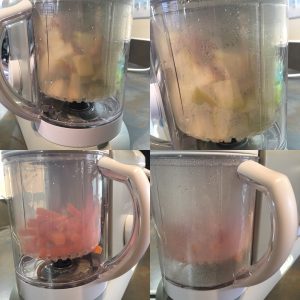 As you can see above within a few minutes the steam is generated. The Béaba steams foods in 15 minutes preserving flavours and vitamins. Depending on what type of foods you are trying to steam depends how much water you will need. In the instruction manual is a handy table to help you decide the correct amount of water to use.
Unlike others on the market the Béaba Babycook separates the cooking water during steaming which can then be used to adjust the foods consistency. Alternately you could use the cooking water as juice.
Once my food was steamed I was then able to use use the blender option to make some tasty purée.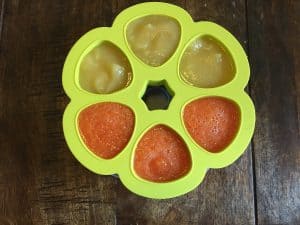 I was also sent this handy silicone freezing multiportion which I placed my blended Fruit and vegetables in and popped In the freezer to use at a later date. This is perfect if you are trying to do big batches at a time. When you are ready to use the frozen purée you can use your Béaba Babycook to defrost it and reheat ready for your little one to eat it.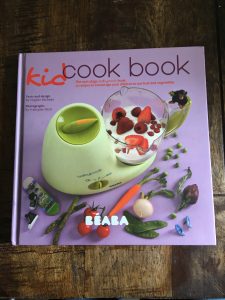 Are you needing some inspiration for exciting new meals for your little one . Bèaba also have a cook book which include some nutritious and creative recipes.
I personally love the Béba baby cook it's given me the kick up the bum I needed to start making homemade nutrious meals for Ava. Not only can I use it for Ava ,I will be using it myself to make things like soups.You can also purchase additional parts so it can be used to cook pasta and rice !.
For more information about the Béba Babycook or any other products in their rang visit the Béaba website.
The Béaba baby cook plus is priced around £149.99 and is available from John Lewis,Amazon and JoJo Maman Bebe.
The mutiportions is priced around £13 and the cook book is priced around £7.49.
*All products shown above I was sent for free in return for a honest review all opinions and pictures are my own.*