The working parents guide, to raising happy and confident children :Review & giveaway
I have recently been sent a copy of Nadim Saad's newest book The working parents guide, to raising happy and confident children. Now I'm not normally someone who reads parenting manuals but with my return to work fast approaching I thought this one may be useful.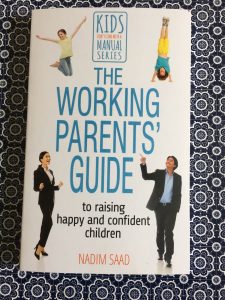 The normal problem I find with parenting books is that the author doesn't seem to be like me. I always imagine them to have a million people to do different things for them, not actually parenting. So they don't really have to tackle the same things that I do day-to-day .
With this book it's completely different I could tell straight away Nadim was talking from a parents perspective. Nadim actually started to write parenting books with his wife. The book shows parents how teamwork, effective communication and forward-planning can radically improve their family lives . The ethos of working together I think is so important in the success of what ever your trying to implement.
I love how this book is set out into clear and precise sections. Making it so much easier to pick back up after sorting the kids out. Unlike a lot of parenting manuals on the market it contains recent research, That is set out in an easy to understand manner. I am only half way through this book but have already learnt some new strategies, that will be very handy when back at work.
This book has only recently launched, but I think its going to be very popular. You can find out more about the book and others in the series on their website . You can purchase this book and others in the series in paperback and on kindle from amazon.
want to take a look at previous books in the series why not download Raising confident kids for free http://dl.bookfunnel.com/xmfy8waurm.
*I was sent this book for free in return for a honest review. All images and opinions are my own*