Having lots of scooting fun with the Xootz LED tri scooter: review
Ava's at the age now where some days she doesn't want to go in the pushchair. So wants to walk but gets tired and bored quickly. It's a right nightmare as we don't have a double pushchair so it's not like I can stick her in the pushchair if she changes her mind. So to help me with this she has recently been sent a the Xootz LED tri scooter from Skates.co.uk to try . I'm hoping it will make my life a bit easier for the days when she decides she is too much of a big girl to go in the pushchair .
The lovely people over at Skates.co.uk asked me to pick what scooter I would like from their website . I was stuck between two different ones . I know I wanted one with three wheels and one that wouldn't be classed as 'girly'. So when Alby is bigger he can use it to . Saying that I bet if I brought a pink one he wouldn't have cared a scooter is a scooter at the end of the day regardless of colour ! . Although on the website it does say it's for boys ! personally I think that should be changed.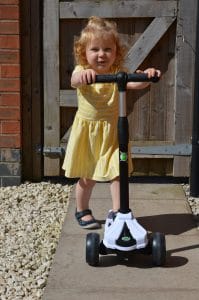 In the end I went with the Xootz LED tri scooter on the pictures it looked like it would with stand my toddler tornado or as I like to call her Ava . Plus I liked the LED lights in the wheels . I thought it was a nice added touch.
It arrived very quickly although the box was a little ripped the scooter itself was in perfect condition . As soon as Ava saw the scooter on the box she was excited and we had to open it straight away.
Which I'm glad that it's all in one piece meaning she didn't have to wait for me to build it . The scooter comes with the handle bars flat down on to the foot bar. Then it simply clicks out and into position. You can if needed alter the height of the handle bars. Which is great as you can alter it as your children grows .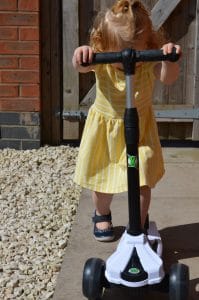 This scooter isn't like your normal scooter . In order to change direct you have to lean . Which Ava did find difficult to start with but the more and more she plays on it the better she gets.
There is also a foot brake on the back of the scooter which Ava hasn't grasped how to use yet . Ava's not the best one for balance so she generally always has one foot on the ground when she scoots. I can imagine for older children who are going fast on the scooter with both feet on the foot board. This would be very handy . I did in fact give it a try ( big kid at heart ! ) and the foot break was in the perfect position and very easy to use.
Ava has been mainly using her scooter in the day but the other night she used it in the house and was able to see the LED lights in the wheels . She was amazed and just kept wanting to scoot about so she could see them light up.
Our overall thoughts of the Xootz LED tri scooter
Overall I think this is a great scooter. Yes it's taken Ava a little while to get used to but she has never had a scooter before. It's withstood a toddler trying to get to grips with scooting . Which is great as she's not the most daintiest of child.
It's really well made and can be altered really easily so it too can grow with your child. You can also collapse the handle bar section down which is handy for when not in use . Or if you want to pop it in the car to take out and about.
I will say that this Scooter is made for children 3 plus although Ava isn't yet three she was able to use this scooter. It did take her some time to get to grips with leaning to change direction. But she has got there and loves scooting about. Very handy for when we're taking the dog for a walk. She wants to be in the pushchair less now but will scoot about next to the pushchair which is saving me from having to carry her when she gets bored with walking
The Xootz LED Tri Scooter – White is £49.95 and can be purchased from the Skates.co.uk website.
*We were sent the Xootz LED Tri scooter shown above for free in return for an honest review. All opinions are my own*