Yummy cake in the post from Bakerdays
If you were to ask me what I would like to see the most come through my letterbox it would defiantly be something edible. So when Bakerdays approached me asking If I would like to try their cakes I was well up for it.
As you may have seen in a previous post I have recently graduated from university, so I thought it was only right that I reviewed a graduation cake to make my day a little bit more special. When I was looking on their website I was amazed by how many different cakes they did for any occasion you could think of.
Not only are there a wide range of different images and themes you can have on your cake, but you can also choose from a good range of different sponges. Unlike a lot of companies they also do the option of gluten-free and dairy free. Having a family member who is celiac to see that you can order a cake for them really makes me happy. Not only can you pick a design that is already on their website you can personalise it by adding your own images and text.
So my cake arrived and I was so happy with how it looked and the added gesture of a card and candles really added that little extra personal touch. Not only did my cake look good it tasted amazing. I was a little unsure about how it would stay fresh after being posted but It did, the tin had little wholes on the top to let the air circulate . The cake was perfect it hadn't been dented or squashed at all either which was my other worry.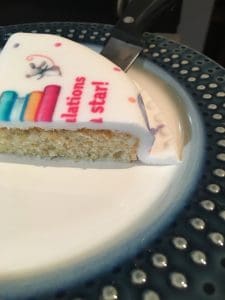 For more information or to order a cake head over to the Bakerdays website or give them a call on 01623 867160. If you Order before 2pm you will get next day delivery.
* I was sent the cake shown above for free in return for an honest review. All photos and opinions are my own*