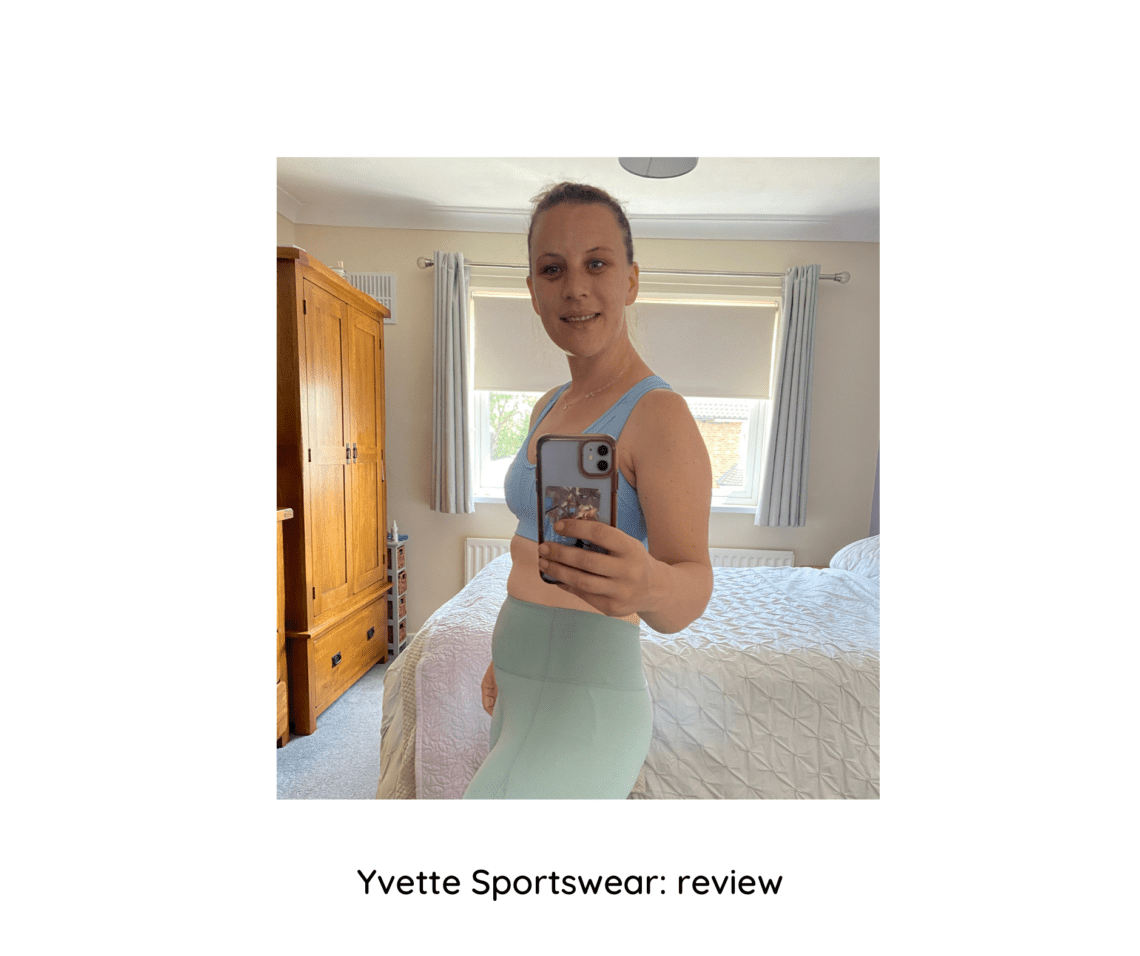 Yvette Sportswear: review
I'm not really a Gym person so have never really had the need for any gym gear. However, during lockdown, I got into running which lasted all of a few months and then home workouts which I still do today most days. So this meant that I was in the market for some gym wear. I purchased gym leggings mainly from many major sports brands and had mixed experiences. Some of the main things I want from gym gear are for it not to be see-through, to hold me in securely and to not make me hotter.
Recently Yvette reached out to me to ask if I would like to try some of their gym/exercise wear. From looking at their website I saw instantly that a lot of the designs would be ones that I would wear. In return for a review, they send me 4 items from their website which I was able to pick myself.
Power cross Back padded running Bra
Not having the biggest of chests I have never really had a sports Bra. I was however finding during workouts my everyday bra was making me so hot and sweaty. So I thought I would give a sports bra a go to see if it would elevate this issue.
Firstly I want to start by saying this is one of the comfiest things I have ever worn. It fits perfectly and I feel so well supported it's actually made me realise I have probably needed a sports bra for a long time. I am no way near as sweaty around this area wearing this Yevette sports bra. The air holes in the front and stretchy and sweat-wicking fabric keep you lovely and cool.
To find the right size for me I used their measuring guide on their website and it fits perfectly.
The whole design of the Bra is so pretty the cross-over back is lovely. If you had to confidence to wear it by itself then it would look lovely. I also love the blue colour but if Blue isn't for you the Yvette power cross-back padded sports bra comes in a range of different colours and in sizes S-5XL+ and is £30.
Shift High-wasted Airhole running Leggins in sky blue
I had really high hopes for these leggings as I just love the colour of them. I love the high-waisted fit and they stay up during the whole of my exercise which I like. The air holes on the legs and the sweat-wicking fabric help with ventilation to keep you nice and cool.
The only downside is that they are a little thin. If I wear dark-coloured underwear under them you can see them. This is a little annoying as if I was to wear these to the gym ( not that I go to one) and went after work I would really need to think about what underwear I had on each day and that is just too much to think about in the morning for me.
The airhole running leggings are available in 6 different colours and in sizes S-XL and are £36
Echo cropped running shorts in Purple
These again are really comfy has all the same great features as the leggings above but again are a little see-through. I'm not sure If I was to size up if they would still be see-through but I like my sports leggings to fit correctly and not be baggy so I'm not sure as I found the sizing to be perfect.
The four-way stretch made it really easy to move around and so did my exercises. I have also been wearing these under dresses at work as "chub rub shorts" and they have been super comfy for this, I haven't felt hot or sweaty and have kept my legs from rubbing in this warm weather we're having.
The Yvette Echo cropped running shorts come in 4 different colours and are available in sizes XS-5XL and are £28.
Yvette sculpt High-waisted Running leggings
I have definitely saved the best till last. I love these leggings and will be buying another pair for sure. They fit amazingly and make me feel so good. The supportive waistband holds me all in and doesn't fall down during my workout.
Like all the other products I have tried the leggings are made from breathable and sweat-thicking material which keeps me nice and cool even during a workout.
One thing I would like to see with these leggings and all the other leggings/shorts I have tried from Yvette is pockets. I have worn all of these to walk the dog and my previous leggings had a pocket either on the back or on the leg and this was so handy. It meant I was able to pop my phone in my pocket and listen to music on my walk whilst being hands-free to walk my dog.
The sculpt High-waisted leggings come In 2 colours and in sizes XS-XL for £26.
Overall I am happy with all the pieces I have tried they fit perfectly and the size guide chart on their website is really handy to get the right sizes. However, I did find the coloured leggings to be a little thin which isn't something I would want from gym/exercise leggings.