Magicube by Geomag review and giveaway
I'm always on the look out for new and exciting toys to entertain Ava with. At the moment she is loving animals so when we were offered the Magicube safari and polar animal set to review I knew they would be a winner. It even keeps grandparents entertained which is a bonus. My dad sent me this picture just moments after me leaving him and Ava to explore the Magicubes.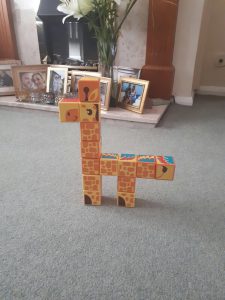 As soon as Ava got the box's out she was excited the bright and vibrant packaging is really inviting. In fact I had to put one aside so she could just look at the one set .unlike most toys I have found on the market these toys are aimed at children as young as 18 months old !! Thank you ! I really think that a lot of toy companies have missed out this age. The parts are either too small that she could choke on them or its a baby toy. There doesn't seem to be much of a middle ground. They do also do packs for older children, from 3 years plus which have additional parts you can attach on to your cubes.
Ava's enjoying exploring her new magicube from @geomagworld . This set she is currently on playing with is the polar animals set. See Ava's opening her parcel on our story. #geomag #geomagworld #STEM #review #parentbloggersuk #ukbloggerlife #ukparentbloggers #letthemexplore #magnetic