Valentine gift ideas to suit all
Valentines Day is a bit like marmite you either love it or you hate it. If your a lover of Valentines or your just wanted to give your loved one a little gift here are some valentines gift ideas for you.
Seams Hand Cream
I'm a big fan of a fancy hand cream especially in the winter months. The Seams hand cream is the perfect present for anyone that loves to look after their hands. It was originally created for couturiers to help mend and soothe their skin. Their hands are the most important tool and they need them to be on top form. The quick Absorbing cream leaves hands feeling amazing and is non- greasy.
A little bit goes a long way with the Seams hand cream. It's like a gift that gives on giving. Making sure your hand are soothed and moisturised ready to take on whatever the day has in store for you.
This Georgous hand cream is parfen free and full of natural goodness. Seams Hand cream is £14 for 75ml and can be purchased from their website.
Encona's Carolina Reaper Chilli Sauce
Want to spice up Valentines day. Then what not buy something to tingle the taste buds the Encona Carolina Reaper Chilli Sauce is the perfect sauce for those who love something fiery. It features the world's hottest chilli the Carolina chilli blended with tomatoes,garlic,cumin and orange to give it a well rounded flavour. The Carolina Reaper chilli is more than 25 times hotter than the pri pri chilli.
This extra hot sauce makes the perfect marinade or can be added to soups to give them that extra fiery kick.
Hugo boss Gift set
If your going to buy your other half some socks then why not push the boat out and get them some nice socks. This Hugo Boss gift set comes with two pairs of beautifully made socks to keep your loved ones feet nice and warm. The simple but stylish design means that they will suit anyone. Along with the socks comes a Hugo Boss note pad perfect for someone on the go. That needs to make some quick notes. The note pad isnt lined which I quite like as it can be used for a varitry of different things.
Also Im a lover for a tin . I like to keep hold of tins like this to store things in away all organised.
This stylish Hugo Boss gift set and lots more gift ideas can be found at Mainline Menswear
Hi Lover Here is a book
Maybe your not one to put into words how much you love your other half. . Well the Hi lover here is a book is perfect for you. It's basically a book full of quotes , saying and truisms about love that will make you giggle. One of my personal favourites quotes is
The main trouble with women is that they will just not put the seat back up again


Martin Clunes
With this book being £3.13 on Amazon it's a great present for the budget conscious or just something little to give to someone you love.
Fudge Kitchen
Now everyone knows the way to someones heart is good food. Or in my case sweet treats. One of my favoutite treats is fudge . I thought I had tried the best fudge around but boy I was wrong. The 4 different fudges I have been sent from the Fudge kitchen are so incredibuly yummy my mouth is watering just thinking about them.We were sent
Icy Vanilla Coconut
Sea salted Caramel
Belgian Choclate Swirl
Choclate classic
They were all so yummy and something I would love to receive as a gift. They are just so smooth and creamy which make them a perfect treat after a long day with the kids. As each fudge is made freshly they do suggest that the fudge will only keep for 10 days that's if it lasts that long. Ours didn't ! it does also say on the packaging that you can freeze it which I think is just fab. Especially if your trying not to eat it all in one go.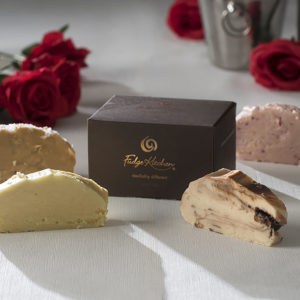 The Devilishy different box shown above is priced at £16. To find out what other boxes they have make sure to check out the Fudge Kitchen website.
Schokolat
Now the saying looks to good to eat really does apply with this. This chocolate heart padlock looks so beautiful it's crazy to believe that it's made of chocolate. This life size padlock is so realistic if you didn't know it was chocolate you would really think its a real padlock.
Not only does it look good it tastes great. The chocolate is so smooth and full of flavour it literally melts in your mouth leaving you wanting more. You can get this heart padlock and other chocolate goodies from the Yumbles website. There is also dairy free Chocolate available from Yumbles.
Love Hearts from Swizzles
Love Hearts make me think back to when I was a child. We would open up the packet and see what the love heart would say. We would all giggle when we would pull out the kiss me heart and joke and giggle about who we would kiss. I was about 10 I will add when we used to do this.
Love Hearts however arnt just for children they are a sweet treat that you can give your other half a fun and tasty treat. Not only do they come in packets You can buy cute little tins for £2 filled with love hearts to give to someone you love or maybe just to buy yourself for a treat. Like Ru Paul says " If you dont love yourself how the hell you going to love someone else !"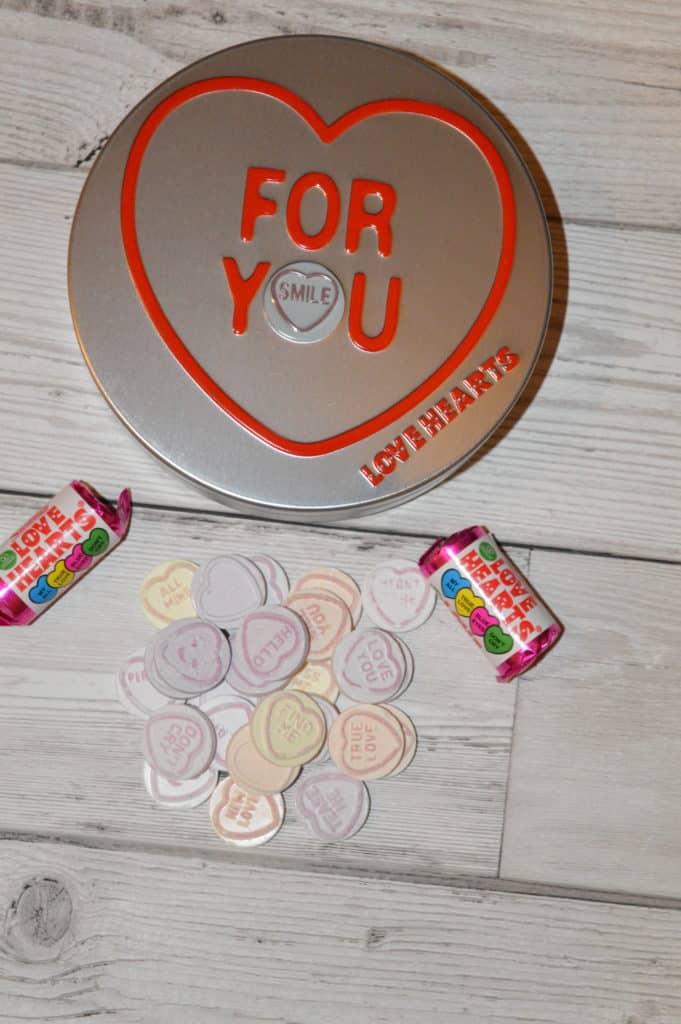 Along with the quotes we associate with Love Hearts in 2019 they have added in emoji Love Hearts making them the perfect gift for Love Heart Fans of all ages. If you want to go that one step further you can head over to the Swizzles website and personalise your very own Love Hearts with a personalised messages or your loved ones name.
Derwent Bullet Journal set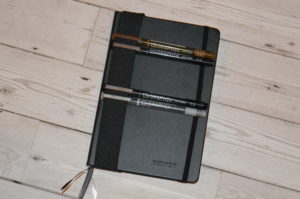 Is your other half a doodler, a creative writer or someone that likes to keep their life organised ? If the answer to any of those is yes then this bullet Journal set is the gift for them.
This set contains 1 A5 bullet journal with 100gsm ivory coloured ink proof paper, elastic closure, 3 ribbon page marker,4 x Graphik Line markers and a elasticated wrap to hold all your pens in place.
Vanilla reindeer
Vanilla Reindeer is your one stop shop for all things valentines. Wether it's a card, gift bag or a box of yummy choclates you need Vanilla reindder can help you. With the added special feature of being able to personailse all your gifts including gift bags. You can pick really easily from their pre made designs and add a picture and add their name and add a little message.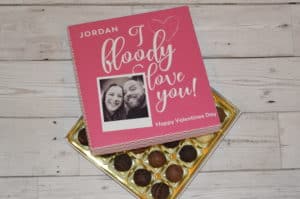 The website is really easy to navigate around even on my mobile. I really like the fact that before purchasing you can have a 360 view of what your gift will look like. All you need to do then is purchase your products and have them delivered to you or your loved ones. No searching the streets for the perfect gift its all done online quick and easy.
I will say that the quality of all the products is really good. The print is really clear and my picture looks as good as it does on my camera. You can buy a huge range of personalised items so why not head over to their website and take a look they do much more than Valentines gifts. If you do place an order be sure to use the code LOVE10PR on your first order to get 10% off.
I hope this has given you some ideas of what to buy this valentines . If you do celebrate Valentines day I hope you have a lovely day. If your still not sure what to get not check out last years gift guide for some more inspiration.