I am a big lover of books, Ava already has enough to open up a small library. So when I was recently contacted by the lovely people over at Maverick arts publishing to see if I would like to review some of their books . I was interested to see if they would make a great addition to our book collection
Maverick publishing sent me two of their new books for review. The first one is Stone underpants by Rebecca Lisle . The book is about a little boy called Pod who was around in the Stone Age . He desperately wanted something to keep his bottom warm. So went about making some underpants from various different things. This illustrations in the book are lovely , the pictures are both vibrant and engaging. I'm sure we all know a little person who would find a story that talked about bottoms really funny.
The second book I was sent was As nice as pie by Gary Shepard and Tim Budgen. This is a funny tale about Mavis and a huge flock of birds . The story has funny rhymes all the way through and is enjoyable for both children and adults. As children in key stage one learn a lot about rhyming this would be a great story to help support their development. Again the pictures are truly beautiful with each section of the book full with a detail to talk about. I love the hidden meaning to this story that your dreams can come true . I think children need to know this that with some hard work they can achieve anything.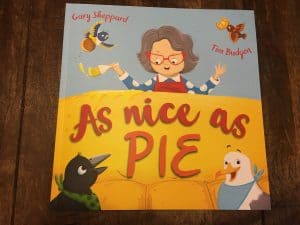 Both books  are priced at £6.99 each and can be purchased from all good bookshops and you can also order online from Amazon and The Book Depository.
Follow me on :