When all your birth plans go out the window !
So whenever anyone asked me what my birth plans were it was simple . I wanted a water birth with little intervention, well it didn't really go to plan !.
Well our little princess was meant to be with us on 21st December , that date had now been and gone and I had been up to the hospital so many times thinking she was coming but no such luck. Finally I got my date for my induction and could see the light at the end of the tunnel . Being now 10 days overdue I was so tired and just a ball of emotions.
So got my bags packed and went into hospital to be induced , but to my disappointment I was left on the induction ward all day with nothing happening and no one seemed to be doing anything to help move things along.
After what seemed like days of waiting I was moved to the labour ward , where they put me on the induction drip. At this point the pain was to much to take and had an epidural . By the way an epidural is amazing and would have it again in a heart beat I was able to relax and get a few hours sleep!!.
The next thing I knew a doctor was doing his daily rounds and asked to examine me which I was more than happy for him to do as one more person looking down there at this point really didn't bother me . I'm so glad he did as I could see the look on his face was a concerning look. The next thing I knew he said this baby needed to come and that I needed an emergency c section as I had no fluid.
I was given all of 2 minute to take this in and sign my permission for it to happen before I was taken straight into the operating theatre. It took all of 5 minutes to get my little princess out and hearing her cry for the first time and to know that she was healthy was immense.
Ava Willow Davies was eventually born on :
01/01/2016
10.47am
8lb 4oz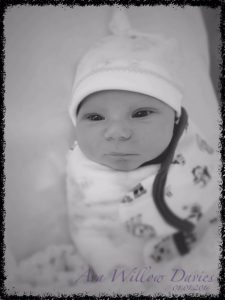 I can honestly say looking back now I cannot remember what the pain felt like I just know it was all worth it.
sometimes the things that are worth waiting for aren't always easy and don't go to plan . So I would say don't think too much into birth plans . Maybe just make a note of things you don't want to happen like having certain drugs . Or things that you really want to happen like skin to skin as soon as possible.
Since  first writing this post I have gone on to have another baby . Another one that didn't go as planned . For many different reasons check out why.