Stars and Snuggles baby star travel wrap: Review
I don't know about you but I'm really struggling with what clothes to put Alby in at the moment. One minute it's brilliant sunshine the next it's pouring with rain ! The one place I find the hardest to dress Alby for is when we're going in the car . I'm always really conscious about what his wearing. As I want to make sure nothing is impacting the safety of his car seat like thick coats. Then recently I was contacted by the lovely people over at stars and snuggles . To see if we would like to try one of their baby star wraps which can be used in the car seat and out.
A little bit about stars and snuggles
Stars and Snuggles was founded by a mom who after finishing her maternity leave decided her life needing a different direction. She then came across some parents on Facebook talking about a crochet star blanket but they couldn't find anywhere to buy it. This gap in the market gave her an idea and then Stars and Snuggles was born.
The brand was launched in 2017 . With a vision of creating a star wrap for babies to use safely in car seats. She also knew she wanted to design and source the products from the U.K. . Which personally I love . After much hard work the owner found the perfect supplier and partner to produce and deliver the products.
I really love that although they may not be the biggest company out there at the moment that they still give back. They donate a proportion of their income to the road safety charity Brake . Which makes your purchase all that more special . Not only are you making sure your child has the safest snuggly star wrap for their car seat. Your also helping to support a great cause.
The stars and snuggles baby star travel wrap
Now to the actual product we have been testing . The baby star and travel wrap is aimed for use during the warmer months . They do have different wraps for different times of the years which is great.
I asked for the baby star honeycomb cotton travel wrap in grey. For two reasons Alby's is a hot baby and I thought the thicker fleece ones may be to warm for him especially in the weather were having at the moment. Maybe if we have another cold winter I may get the fleece one. If the travel wrap doesnt keep him warm enough. I also picked grey as I just love grey on Alby I think it really looks nice on him.
I really love the print of the material inside the baby star travel wraps its just so cute. You get little sneak peaks of this material when your baby is in the wrap. The hood is trimmed with it and also the hand and feet sections can be turned over so their feet aren't enclosed and you also get a peak of the inside material here.
I have since having the baby star wrap washed it twice and it washes really well. It hasn't shrunk at all and the colours look just as fresh as when I first received it.
How to use the Stars and Snuggles baby star travel wrap
The great thing about this wrap is that it can be used pretty much anywhere and with anything from car seat to sling to pushchair. You name it is can seamless be moved from each place with minimal effort.
The Stars and Snuggles baby star travel wrap can be used with a three or five point harness. The straps of the car seat fit Alby perfectly as if he didn't have a blanket around him. This is because the straps fit through a Velcro section on the back of the baby star travel blanket . Meaning that the straps fit as they would normally and no blanket is between Alby and the straps. The adaptor section that you plug the straps into between the crouch. Also has a section cut out so you can push it through free of any material.
To get baby out without removing the wrap you simply unplug the straps as you would normally and as your taking them out. Slip the straps though the Velcro section on the back. This is genius it means your little one isn't woken up from suddenly becoming cold . They are kept nice and snuggled. If like us you have a hot baby you can fold back both the hands and feet sections. You can also open the wrap so that baby isn't as snuggled if you notice they are getting warm. All without waking them.
The Stars and Snuggles baby star travel wrap shown above is £31.50 and can be purchased from their website. You can also have some embroidery on the wrap for an additional charge. If you have a friend or family member who is expecting then this would make a perfect gift. Or if like me your a parent concerned about keeping their child warm enough in the car but also making sure they are safe. Then this is the product for you.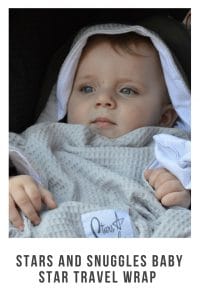 *We received the Stars and Snuggles baby star travel wrap for free in return for an honest review. All opinions are my own*