Arbonne products for baby and me
Over the last week both me and Ava have been using some products from the Arbonne range and we have been really pleased with the results.
Before I was offered some samples from the Arbonne range I had never heard about them. As I looked more into the company the more appealing their products were. They don't use any animal products or by products, artificial flavours or artificial sweeteners . There is an extensive  list of other products that they don't use to formulate their range, making them the best thing to use on both yourself and your little ones skin.
I was sent the purifying cleanser and toner which I was so grateful for as after having Ava my skin has changed so much. I found that the cleanser and toner was really light weight and suited my skin perfectly. I could visibly see after one use that my skin was less oily and nice and soft. I found that I only needed to use a small amount of this product each time meaning that it will last for ages.
I was also sent the Ultra-Hydrating hand crème, this I was in urgent need for as since being a Mommy I seem to be washing up all the time and my hands have became very dry and sore at times. This cream hydrated my skin straight away easing the dryness making my hands nice and soft !!. The hand crème again was nice and lightweight and didn't leave my hands feeling greasy as many hand crèmes do. The hand crème smelt amazing as it contains fresh kiwi cells.
I was also lucky enough to be sent their make-up primmer which I found to be really amazing it left my face feeling nice and smooth and a great base to apply my make-up on top of. It visibly covered up blemish marks and pores !!!.  I used this along with the oil- Absorbing day lotion with SPF 20 this left my skin with a Matt finish and also helps to reduce the oil on the skin it also has the added bonus of having a SPF 20 in it just in case we do ever see any sun in England !! or if I'm ever lucky enough to go on holiday.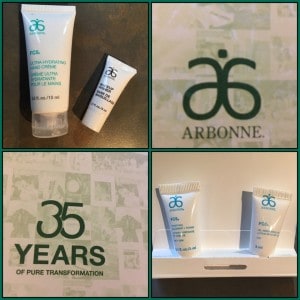 Arbonne also sent me some product from their ABC range for children. When using products on Ava I am sure to check what it contains as I don't like to use products that have unnecessary chemicals and nastiness in.All the Arbonne baby products use mild soothing ingredients from nature.
As seen in some of my previous posts Ava loves bath time so we love to try out different products whilst having fun in bubbles. We were sent some Hair and body wash to try , having a 2 in 1 for me is a winner meaning less bottles to try and juggle at
bath time.
The hair and body wash didn't smell as strong as some other products that we have tried but it did leave her skin feeling amazing. After her bath we used the ABC body lotion this is slightly scented with calming natural oil blends of cotton seed,hibiscus and sandalwood making the perfect cream to use before bedtime. Ava recently has started to become sore in some of her creases . I found using this body lotion stopped her from
Becoming sore and also soothed her already sore patches and now they have completely gone.We were also sent some water resistant SPF 30 sun cream but due to living In England and not seeing any sun we have not been able to use it yet so bring on the summer so we can try it !.Also sent was some Nappy cream but again I haven't used this yet as Ava hasn't needed it and I don't like to put cream on unless it is completely necessary . I have but this in a safe place for when she gets a sore bottom from teething as I love the fact that it is naturally formulated and would chose to use this before some more well known brands.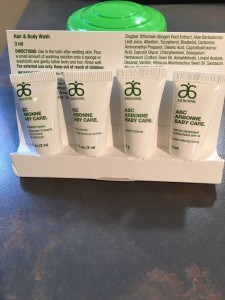 All of the above products can be purchased from www.leebodily.arbonne.com  and I personally think they are fantastic especially if you are concious of the ingredients in the products you buy. Arbonne do a wide range of different products but don't just take my word for it take a look.