Bathtime fun with earth friendly baby : review
If you're a long time reader of the blog you would have noticed that we love bath time. Ava is such a water baby and I was hoping Alby was going to be the same. Thankfully he is so bath time is a fun time in our house. The more bubbles the better. Ava is finding it hilarious at the moment to get all the bubbles and put them on top of Alby's head the poor boy. So when the lovely people over at earth friendly baby asked us if we would like to review some their products including bath products. I straight away said yes please !
I'm always on the look out for new bath products to try with the kids. Ava has pretty sensitive skin and sometimes can come out in eczema. So I do have to be careful with what I use on her skin. I tend to take a look at the ingredient in the products and make sure that they contain no nasties. Which earth friendly baby products tick all the box's when it comes to only having nice ingredients. In fact 99.2% of the total ingredients are from natural origin, and 50.1% of the total ingredients are from organic farming. Which I personally think is fab as I'm trying to be more conscious about the products I buy. I'm trying to have more natural products also products with an eco-friendly focus. All earth friendly baby products bottles are 100% recyclable.
The first product we tried was the calming lavender bubble bath. This smells amazing !! I can even smell it for some time after they have had a bath. It even stays on their skin the next day which I love. It doesn't contain any artificial fragrances or colours it's all natural. All you need is a little amount in the bath to create the most awesome bubbles. Which is what bath time is all about lots of fun bubbles to play with. Like I said above Ava loves to make bubble hair styles on Alby's head.
Now it is called calming lavender and they don't make any claims that it will help your babies sleep. But I have defiantly noticed a change in how chilled out they are after bath time. We usually use fruity smelling bath stuff which does smell amazing but they just seem so much calmer after using the earth friendly baby bubble bath. In fact they have both slept so much better since using it. I'm not sure if this is a coincidence but I'm not willing to try anything else now to find out. As I'm loving having that bit of extra sleep. I have a 3 month old baby that sleeps ! I mean I know I'm lucky . This isn't all down to the bath products but they do chill him out more for sure.
The second product we tried was the soothing chamomile shampoo and body wash. Again this smells amazing it all just smells so natural and fresh. This also like all earth friendly baby products contains no artificial colours or fragrances. I have also noticed that Ava's hair is much more manageable since using this. She has pretty curly hair and it can be hard sometimes to get a brush through it because of all the knots. Well since using this I can brush it so much easier also her curls look more defined and less like a bush on the top of her head. Again they don't claim that it's meant to do anything amazing to curly hair. But from my experience it has defiantly made it more manageable and silky.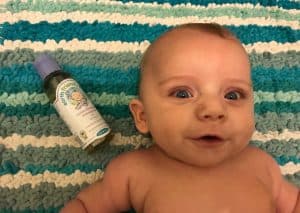 Next we tried the moisturising shea massage oil. Now when Ava was little I learned a few baby massage techniques. So I thought I would try them out on Alby using this. He loved the one on one time together , his skin also felt amazing afterwards. I have also used this on myself having had a C-section I like to keep my scar moisturised. Which it did and my scar and skin feels amazing. I have also used it on some dry skin on my face which it worked really well on. These dry spots have gone and my skin feels really nice. The massage oil isn't what I expected I was expecting it to leave an oily residue afterwards which it doesn't. It just leaves your skin feeling fresh and moisturised.
I did love that on the instruction of how to use it said Dont forget to finish with a cuddle. Which I thought was very cute as life is so fast paced you do need to remember to give your little ones a cuddle.
Lastly we tried the calming lavender baby lotion. This again smelt amazing and left a beautiful smell on the kids skin through the night and into the next day. As I said earlier Ava has eczema prone skin so I am wary about what I put on it especially creams. I started off using a little bit of it. Just to check it agreed with her skin. She hasn't had any breakouts due to us using new cream. If anything her skin has calmed down a little as it has been very sore recently. Also as we don't have bath night every night I have been making sure to use this before bed on our non bath nights. Just like the bubble bath product I have found the lavender to have a really calming effect on both children.
Over all I'm really impressed with earth friendly baby products by Lansinoh. I will be buying this for the kids for sure in the future. The brand has a great ethos and produces some lovely products. What more could you want.
*We were sent the earth friendly baby products shown above for free in return for an honest review. All opinions are my own*