JORD wood watches Frankie 35- Dark Sandalwood And slate : review
You may have seen that last year we were very kindly asked by JORD watches if we would like to review a watch from their men's range. Of course Jordan was overjoyed and I was pretty jealous. Well like they say good things come to those that wait. As a few weeks ago I had a email from the lovely people at JORD to see if I would like a watch to review from their woman's range.
This watch would be probably the first thing I have had for myself in a long time . I cannot remember the last proper treat I had. So of course within moments I emailed them back saying yes please !! And headed to their website . I was like a kid in a candy shop there are so many beautiful watches to choose from . I really didn't know where to start. After some time though I did pick the Frankie 35 series in dark Sandalwood and slate. As I thought it would go with a lot of my clothes and be an easy to wear everyday piece.
In no time at all my watch arrived . Considering it was coming from America the time from ordering to delivery was really quick . The only thing I would say to keep in mind is that you may occur a customs charge as it is coming from overseas. Shipping is free to the uk and worldwide so it's not too bad if you do get a customs charge.
Now I haven't worn a watch since before I had Ava . Not because I don't like wearing them but because the dog at the strap and I haven't gotten around to fixing it. So I needed a watch that was going to be comfy and practical. When ordering your watch your asked the size of you wrist . To work this out you can download a tape measure which you can print off and use to measure your wrist . If this seems like a lot of effort then you could like us wrap a bit of string around your wrist and then measure that with a tape measure or ruler .
My watch actually fitted perfectly so we did a good job measuring .Which meant I could wear it straight away which I was very excited about.
As the watch is made from wood it's really lightweight to wear. It features sapphire crystal glass and has deployment buckle with push buttons . Which makes it really easy to get on and off one handed.
I do also love that on the back of the watch it tells you when it was crafted and where . I just love the extra effort they have gone to to make every time piece special and personal. You can also have a message or a name engraved on your watch if you wanted . You just need to select this option at the checkout.
Along with your watch you get a display box complete with cushion, extra links , natural finishing oil and cleaning cloths. JORD Watches also come with a 1 year warranty from the date of purchase. Be sure to check your information booklet that comes with your watch to check what this covers.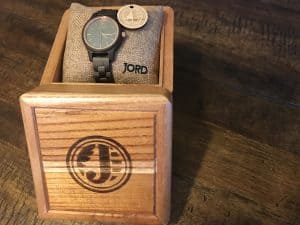 I have had so many compliments about it and people asking where I got it from . It mad how one little watch can boost your confidence and make you feel better about yourself . I'm so grateful for this little treat.
Thinking of buying a JORD watch for yourself or for someone else then make sure to follow this link https://www.woodwatches.com/g/beautiesandthebibs
*I was sent the JORD Frankie 35 series shown above for free in return for an honeat review. All opinions are my own*