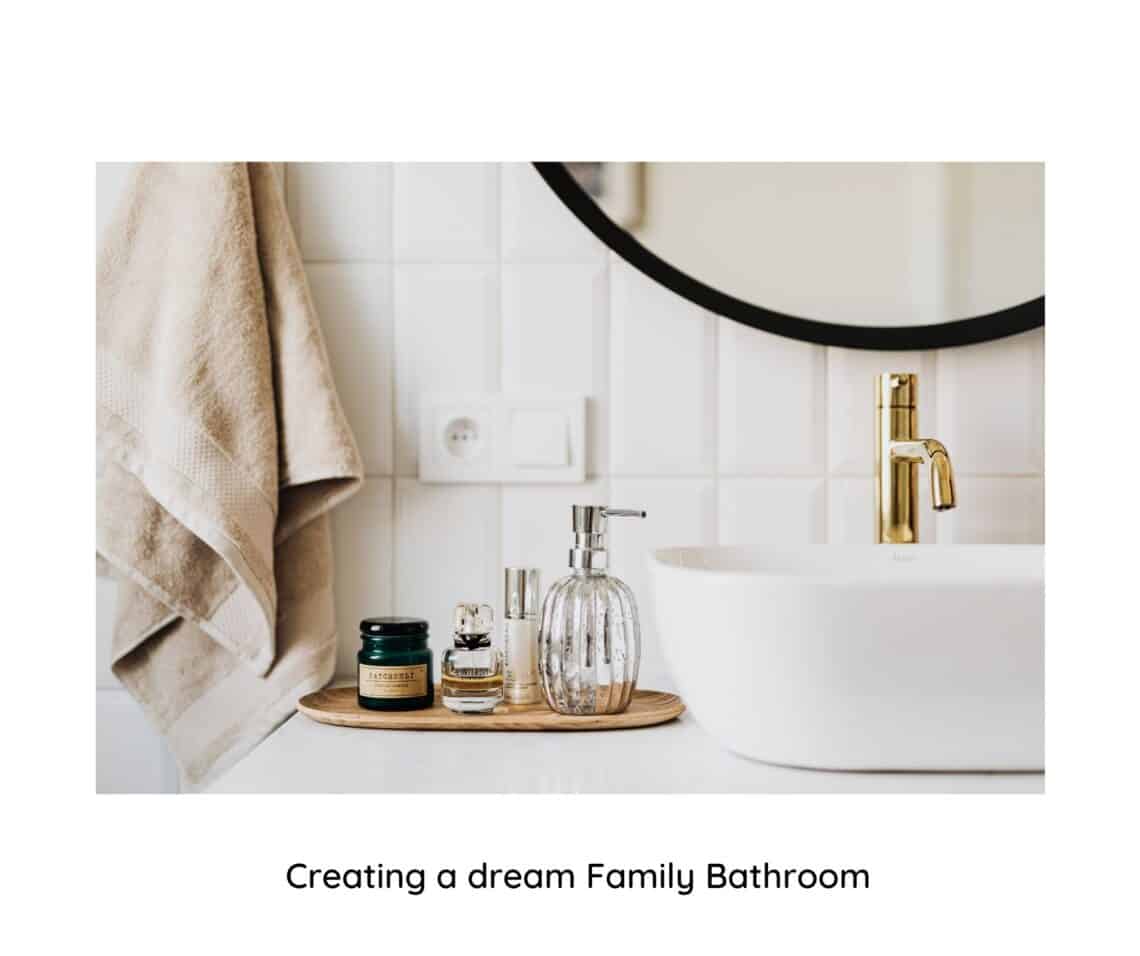 Creating a dream Family Bathroom
This is a collaborative post
The one room in our house that we are yet to update is the family bathroom. It's probably one of my least favourite rooms in the house. The day we moved in the bath plug broke, the mirrored cupboard door has come off and it just never looks completely clean.
The previous owners of the house liked to do quick fixes rather than taking the time to get things done properly and nicely. One of the main things that I hate in the bathroom is that they have covered so much in silicone just to make it look finished. Which didn't really work as it's poorly put on and is different colours in parts. The floor has paint flecks all over it from where they have touched up the gloss work and not taken much care with it. We also had to take the bath cover off to fix a leak and now it won't fix back on.
I find myself often dreaming of the dream family bathroom, one that we can all use as a family and that at the end of the day things can be put back in their place and it can look tidy.
I am one of those people that likes to make sure things are tidy before I go to sleep. So having a bathroom that just looks messy no matter what you do really does make me anxious at times. I know sounds ridiculous but for me, home is my safe space. I want it all to be in order and look a particular way so I feel less stressed.
I have looked at so many websites and at so many designs dreaming of what we could have. I particularly like some of the bathrooms they have done over at Multiliving they have a good mix of modern but family-friendly bathrooms which is the look I am wanting to go for.
We are hoping in the next 6-12 months we will have the funds to be able to completely change the bathroom. So I thought I would use this post as a kind of brain dump of all the things I want to have in our new bathroom. Like, manifest that it will happen.
My dream family bathroom
Flooring
Our current bathroom floor is black and I hate it I find it looks dirtier than our cream kitchen floor as you see every mark, tissue/dust on it. So I would love to have a lighter wooden flooring in there. Something like the picture below would be amazing but I'm not sure it would be in our budget.
The next thing I really want to change up is the bath. The bath is a right pain it's like a kidney bean shape and takes so much of the room up. The kids are now getting to the age where they dont want baths all the time. A quick shower between school, clubs and bedtime is what is needed. So a good shower is a must.
One of the only things I miss about our old house is how powerful the shower is. At our new house, it's just a trickle in comparrison. After having a look around the Insignia steam shower is something I am drawn to. They are some of the poshest showers I have ever seen with so many different functions. Some of them even have DAB radios in them which the kids would love ! I very rarely treat myself but I think this may be a treat we all need.
Fixtures and fittings
When it comes to fixtures and fittings I just want something simple and clean, no hard to reach edges that cannot be cleaned easily just easy to maintain and looks nice.
Then it all finished off with very little accessories just so it doesn't look over-cluttered and mainly so it's easy to clean. Maybe a pop of colour to make the room more interesting. I like the colour in the picture above it just looks so fresh and welcoming.
If the time does come I will keep you up to date we how we get on. From picking the colour schemes and tiles to the simple finishing touches.