Mocc Ons comfy little slipper socks that keep little toes warm : review
You may have seen recently we reviewed some Twiddle Ons which Alby loves. Well now we have been very lucky and been sent another product from the Ons family. We have been sent the Mocc Ons which are cute slipper socks that keep toes nice and warm.
I was asked to go and pick what design Mocc Ons we would like to have. There are so many different designs it really did take me a long time to pick which ones I wanted. In the end I went with a design I thought would go with most of Alby's clothes. So he can wear them everyday to keep his littles toes nice and warm.
Mocc Ons have high quality leather soles that are stitched to a soft stretch cotton sock. They are even machine washable. I have tested this as I'm not the best person when it comes to washing. I popped them in a normal wash in with our light colours and they washed fine. in fact you couldn't tell they had been washed they still looked brand new. The colours have stayed as vibrant as they day we first had them.
Alby really loves wearing them he doesn't even try to pull them off which he does when he has just socks on.
If your unsure what size your child will need there is a handy size guide on their website.
I did also like the fact that on the soles of the Mocc Ons it has a R and a L on them. I always find it so hard sometimes with Products like this to know what food they are meant to go on. Which is handy especially once he has moulded them to his feet more.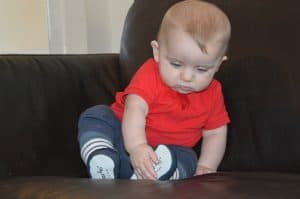 Overall I love these Mocc Ons they look lovely on and Alby seems to be really happy about them being on his feet. As you may have seen before I'm a big lover of children not wearing shoes. Especially when they are so little they don't need these structured shoes you see in so many shops. So these are a great alternative especially if you need something to keep your little ones toes nice and warm and something they wont be able to pull off easily.
The Mocc Ons shown above are £10.99 and can be purchased from their website.
Whilst on their website why not check out their Twiddle Ons they are the perfect footwear to keep babies entertained.

*We was sent a pair of Mocc Ons for free in return for an honest review. All opinions are my own*