Skincare Musts For Pregnancy from creams to body oils
When you are pregnant and even after giving birth, your skin and body will still be going through changes as your body prepares for the incredible process of giving birth. Your hormones may be a bit imbalanced, your hair, skin and body may feel different, but it's important to still take care of yourself. 

Here are a few skincare musts for pregnancy to keep in mind and stick to a routine with:

Body Oil
Body oil helps to avoid stretch marks and helps to deeply hydrate your skin. Take your time when applying body oil. If you are in the market for a new body oil, the Blue Lagoon body oil and entire skincare range is a beautiful one to try, as the ingredients are natural and their products are powerful. Be sure of course before starting any new routines to check with your doctor first!

Get a heavy-duty moisturizer
Ever-changing hormones can make it challenging to select a moisturizer that will shift with you depending on your skincare needs. Therefore, this is a key product to have either one incredible moisturizer that covers a range of skincare needs or a couple in rotation that you can select from depending on what your skin needs during a specific time.

Anything with Vitamin C
Vitamin C helps to brighten your skin and even out skin tone. It is a common ingredient to treat hyperpigmentation and one that many mothers already have in their skincare routine before pregnancy.

A great exfoliator mask 
There is nothing like a great mask! An exfoliator mask helps to go in and revive dull skin, removing buildup and revealing fresh skin underneath. Whether your skin may be facing some rough patches, breakouts or perhaps more oil production than you're used to, a mask that targets these areas and challenges will help you feel fresh and new afterwards! Make it an event to apply and use a mask as much you can. Use essential oils, take a bath, create an at-home spa experience, and enjoy this time to apply a mask and take this time for you.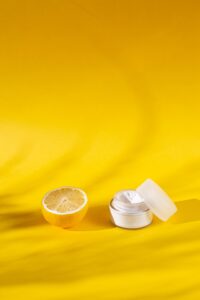 Of course, pregnancy and motherhood is a beautiful journey, and you do have to be careful with skincare products that you use so they don't cause harm to you or your baby. Since ingredients are absorbed through the epidermis, you want to be sure that any and all ingredients are deemed safe!
What are your skincare musts for pregnancy?