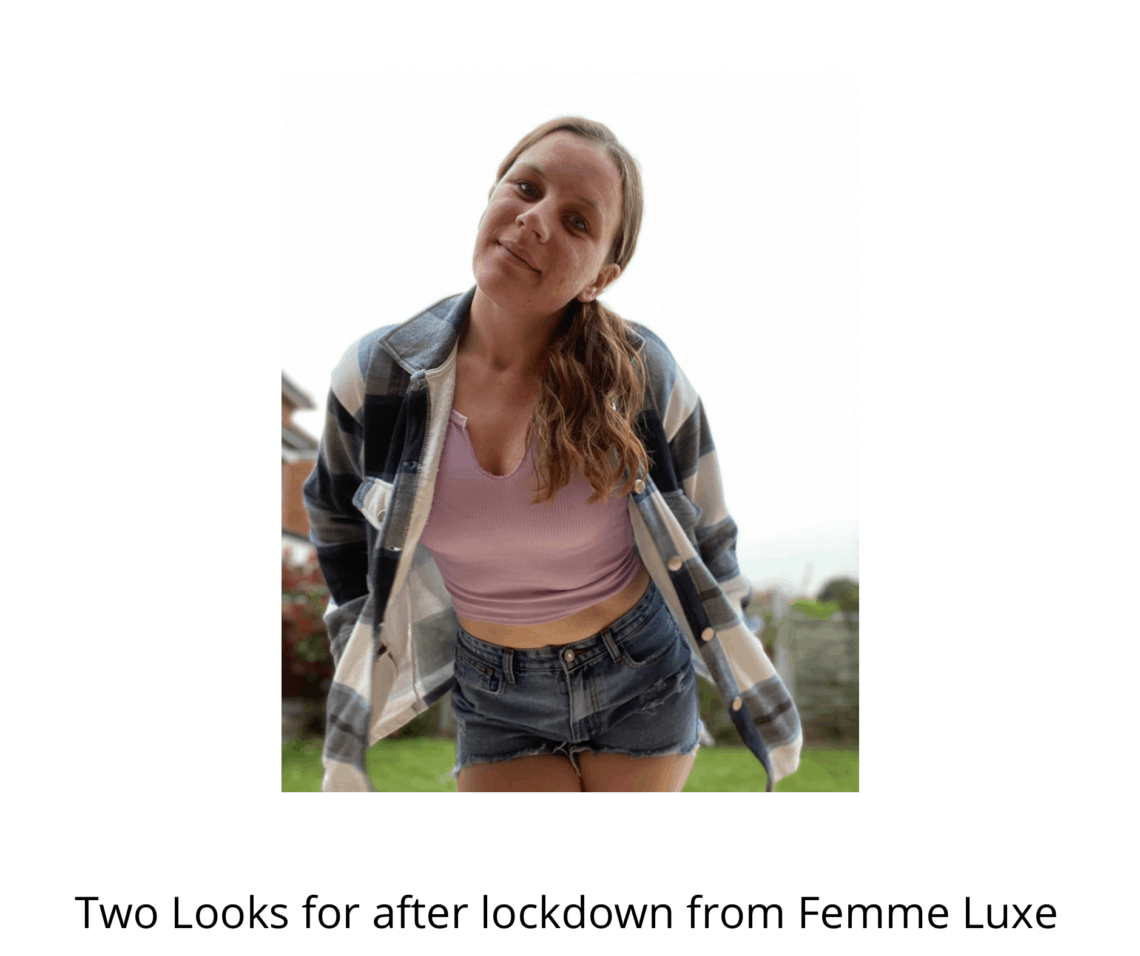 AD: two night out after lockdown looks for spring/summer from Femme Luxe
The clothes pictured below were all gifted for free from Femme Luxe. In return for an honest review. All opinions are my own.
Things are starting to open up , nights out are being put in the diary. Which means the comfy lounge wear we have all be wearing for the last 12 months needs to be put away in the draw. To make way for more dressy up options.
I have been sent some pieces from femme Luxe to help me to leave the lounge wear behind.
I have put together two different looks one that's more dressy and perfect for a big night out. Or maybe even to wear to a wedding that's finally happening . The other look is perfect for a night out in the pub garden with friends.
Night out at the pub look
With the summer months coming , it can only mean one thing time spent outdoors and maybe a pub garden or two.
A good pair of denim shorts is the staple of any summer wardrobe. They can be teamed with so many different style of tops and can be dressed up and dressed down.
In the picture below are the Blue Mid Wash Distressed Denim Shorts – Leanna . After having a few items coming up smaller on my bottom half in the past with Femme Luxe I did size up to a 12 with these as I didn't want them to be skin tight. The 12 fitted my waist perfectly and I love that they are highly waisted.
They are a little on the short time for me but that may be because I'm a self conscious of my legs. However I would be happy to wear them at home I just wished they were a little longer.
I then teamed it with the Lilac V Neck Short Sleeve T-Shirt – Alaya. Now this I was really gutted about as it has come up so short. I did admittedly get a 8/10 so I knew it may come up a little short . But I thought with a pair of high waisted trousers or shorts it would be fine. Sadly it's really short which is a shame as I really like the colour . The material is good quality and a lot thicker than I expected.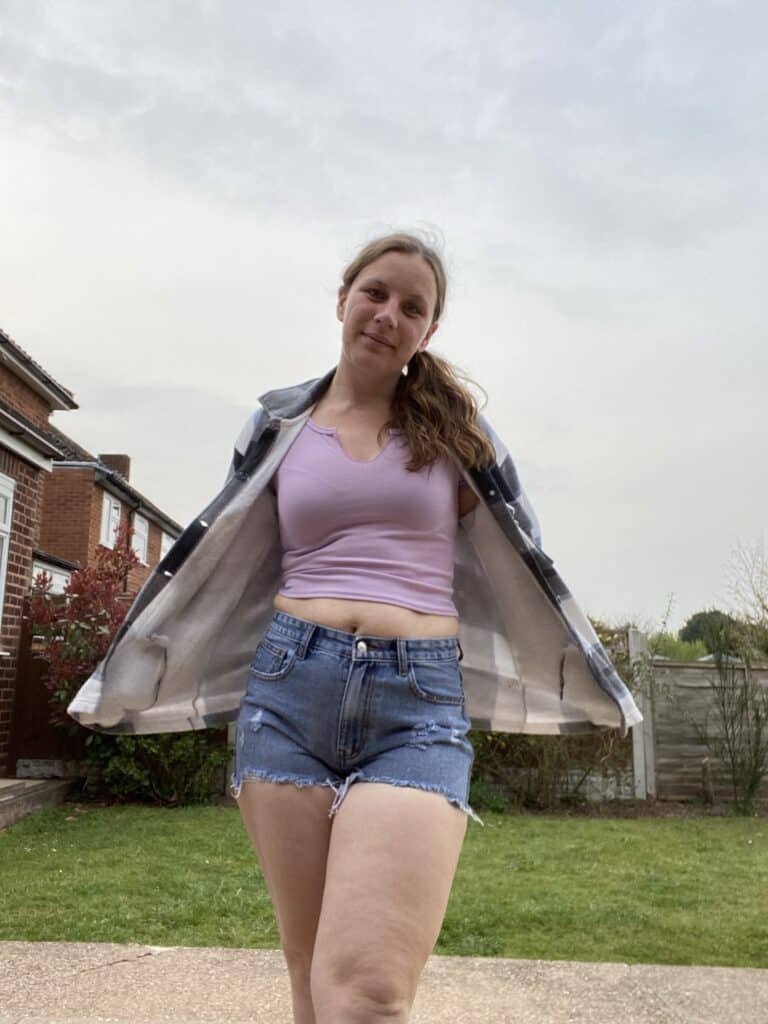 I have gone back to check that the T-shirt isn't meant to be cropped and it isn't so I am a little sad about this one .
If you are someone that likes cropped tops then you should check out the Milkmaid top this would look really nice dressed up with a pair of jeans and some heels.
To finish this outfit if I got the Navy Check Print Oversized Button Up Pocket Shacket – Isabella. I have wanted a shacket for ages and this one is just perfect . Being oversized it's so comfy and i personally think it finishes the outfit off.
The material is really thick and washes really well . This hasn't been off my back since I've had it , I just love it so much. It also have pockets which all good jackets need !
The Navy Check Print Oversized Button Up Pocket Shacket is priced at £22.09 and I got a size M.
The Blue Mid Wash Distressed Denim Shorts are £19.98 and I got a size 12
The Lilac V Neck Short Sleeve T-Shirt is £11.98 and I got a size 8/10
Little black dress
Now we all need a little black dress in our wardrobes. There are so many occasions where a little black dress is the perfect outfit of choice.
The Black One Shoulder Ruched Slinky Midi Dress – Savannah from Femme luxe exceeded my expectations . For the first time in ages I actually liked the way I looked in a dress. It fits me perfectly and the rouched material helps to disguise any lumps or bumps I have. Whilst being figure hugging and flattering at the same time.
I love the one shoulder design of this dress and it's not something I've tried before. It actually looks quite classy and I cannot wait to have a reason to wear it out.
The The Black One Shoulder Ruched Slinky Midi Dress £18.16 and I got it in a 12.
Like the look of this dress then check out some of their other Bodycon Midi dresses.
My overall thoughts of my femme Luxe pieces
Overall I'm really happy with the items I have been sent. The black one shoulder dress and the shacket are top of the list for me. Both pieces I will be able to wear again and again. Just changing accessories to switch it up.
I was a little disappointed with the lilac T-shirt . I knew it may be a little small but I didn't expect it to be more like a crop top . Which if I'm being honest isn't my style at all. I also would of liked the shorts to be a little longer but that's probably just my own insecurities and many people would be happy with the length of them.
I personally think the prices of the products are reasonably priced and at the moment with more people taking to online shopping even if the shops are open. A reasonably priced online store is perfect . They also send their products really quickly so perfect if you make some last minute plans and need something to wear.

Of course not everyone is ready to go socialising so don't worry they still have some lovely grey loungewear that will be perfect for keeping comfy at home. Or maybe a cute co ord sets.
Want to see what else femme Luxe have to offer then check out this post for some lounge wear looks.