We have taken part in the #floralunchbox challenge
This post is an entry for the #FloraLunchbox Linky Challenge, sponsored by Flora. Check out their lunch planner and recipe ideas here.
I am learning all to quickly how difficult creating inviting and healthy lunchbox ideas can be . Making sure that Ava has a variety of different foods to explore each and everyday. So we have taken part in Floras lunchbox challenge to create healthy packed lunches . It's given me both the opportunity to really think about what I am feeding her . Also learning new ideas and options I can give her.
Flora have recently commissioned a survey looking into packed lunches in primary schools in England. The results really shocked me as there is so much awareness about childhood obesity.The main findings are:
only 1.6% of packed lunches in primary schools in England meet food based standards for school meals.

In ten years children's lunch boxes have only improved by 0.5%

only 1 in 5 lunch boxes contained any vegetables or salad . That's only 17%.
Although progress has been made with the amount of protein and vitamin c that is in children's lunch boxes . They still contain high levels of saturated fats,sugars and salts.
So with all this in mind I went about looking for new ideas for Ava's lunchbox . I headed over to the Flora website  and used their handy guide for some inspiration . They had so many different ideas for lunch boxes , that both looked inviting and healthy. Looking through them I found them be really simple and easy .Meaning it won't give you something else extra to do , on already busy school nights.
Even though Ava Is only 9 months old I like to include her in her meal choices . So once I knew what sort of things I wanted her to have we headed to the shops . Where she helped me to pick what it was she wanted .
What did we buy ?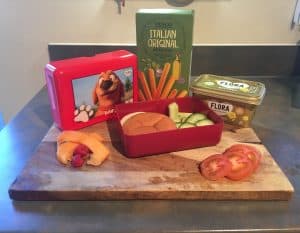 fruit and veg are Ava's favourite so we went for some of her favourites as seen in the picture above. We also had a tuna sandwich using our flora spread. Then I picked some bread sticks. Ava had never tried these before but really enjoyed them. They even seemed to help soothe her gums whilst chomping on them .
I'm such a picky eater so I make sure to provide Ava with a wide range of different foods to try. This must be working as I haven't yet found anything she doesn't like.
For me it's important to include Ava in her  meal choices . Even from a young age . This will continue as Ava gets older , encouraging her to make healthy choices. Then when she is older I will involve her in the preparation of food.
Whats your childs favourite thing to have in their lunchbox ?
Do you make a consciousness effort when it comes to what goes in your childs lunchbox.
Follow me on :