All about me activity ideas for the Early years foundation stage
This months Bostik blogger theme is back to school . Now Ava isn't going to school in September but she is going to nursery . Ava did go to nursery before I went on maternity leave with Alby. This time though she won't be returning to the same nursery. She is going to attend a pre school run by the same people just on a different site . So she will know some of the staff that work there but many of them haven't seen her in nearly a year .
So going back to my roots of an Early years practitioner I thought doing an all about me activity would be good . This is something most nurseries, pre schools and schools do in September . As it allows the staff to get to know a little bit more about that certain child. Learn things that they might not necessarily know from what the parents have written on their registration forms.
All about me bag
In our Bostik craft box this month was a little canvas bag . So I thought this would be perfect to collect thing in to take with us. Things that Ava loves , pictures of our family things that mean something to her. Things that will give the staff a good insight into who she is and what she likes.
I started off by writing All about me Ava Willow on the bag so this would give her an idea of the size of drawing I wanted .I then asked Ava to draw a picture of herself on the canvas bag .
That's it for the bag. You will then need to fill this bag with things that mean something to your child. This maybe a picture , a teddy or their favourite book.
Along with the bag I did an all about me flower. Can you tell I have worked in childcare for many years ! This is just a really simple activity the main purpose of it is to collect information on your child in one place that you think would be useful for nursery to know.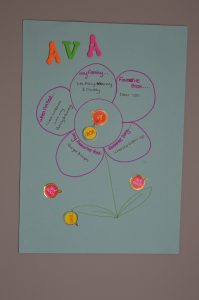 I know what your thinking wont nursery think I'm being over the top doing this . No ! honestly this makes their life so much easier they will have so much more information on your child. Meaning they will know what's make them happy which in turn will help them to settle into nursery.
Take a look at other crafts we have done here.
*We were sent a box of craft materials from craft merrily as part of being a Tots 100 Bostik blogger*