Mother's Day gift guide 2021 gift you can buy online
Mother's Day is fast approaching and for us in England restrictions mean that non essential retail will still be closed. So again many of us will turn to the internet to get something special for our mother's. Below are a few gift ideas I have been sent which you can purchased online. Maybe even get them sent to your mother's house directly so they can receive some happy post this mother's Day.
Mermaid three miniature set
The mermaid miniature set includes 3cl bottles of mermaid pink gin, mermaid salt vodka and mermaid gin.
At £16.50 for the set it's the perfect gift to give your mother this Mother's Day. It would make a great addition to a Mother's Day pamper kit . Add some face masks , hair masks and some mixers. You then the perfect recipe for a relaxed evening on Mother's Day.
One thing that I really like about this brand is not only do they make great tasting spirits. They are conscious about the environment. All their packaging is 100% recyclable.Mermaid Products are presented plastic-free, as credited by A Plastic Planet and features a compostable tamper-proof seal, biodegradable labels and natural cork stopper.
Mother's Day gift hamper from Buyagift
Alcoholic drinks aren't for everyone but maybe a hamper full of treats would be something your mother would like.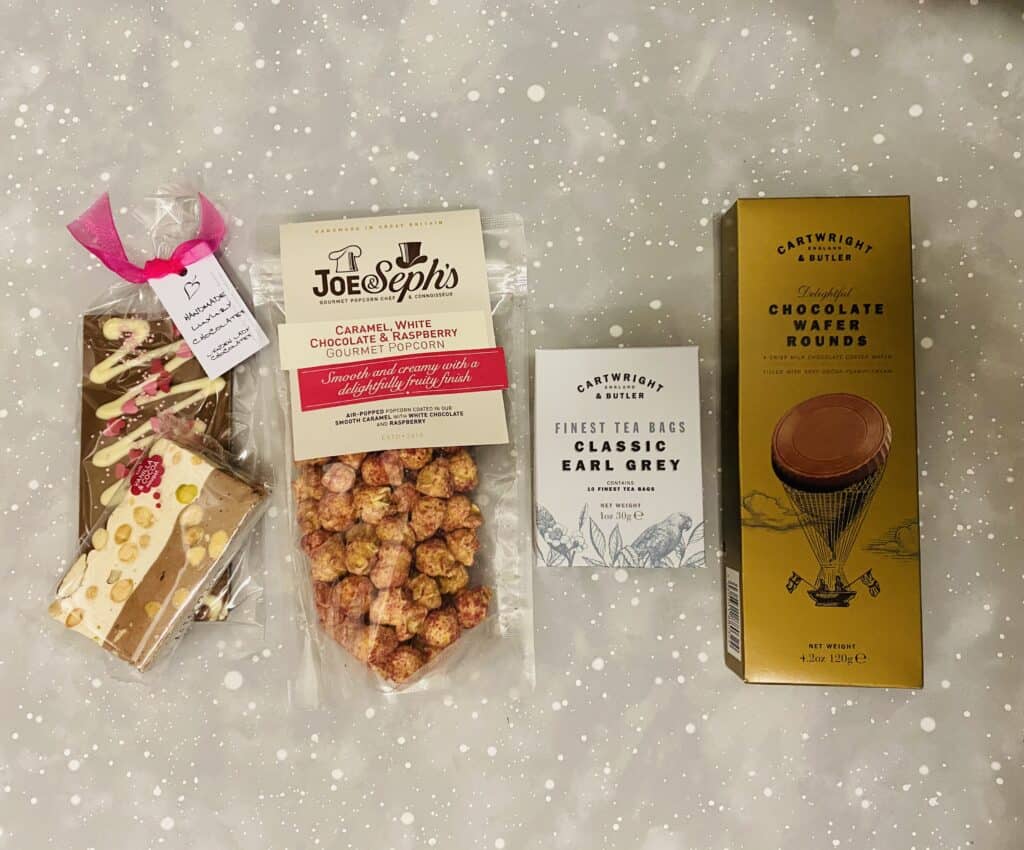 The mother's gift hamper from Buyagift contains,
Cartwright & Butler Chocolate Wafer Rounds 120g
Cartwright & Butler Classic Earl Grey 30g
Joe & Seph's Caramel, White Chocolate & Raspberry Gourmet Popcorn 80g
Linden Lady Decorated Milk Chocolate Bar 100g
Sass & Belle Scattered Stars Mum Love You More Mug
Vital A Slice of Heaven Soft Cranberry Nougat 100g
There really is a good mix of everything in this hamper and everything tastes amazing. I also really like the addition of the beautiful sass and Bell mug. Contents may vary slightly due to supply.
The Mother's Day gift hamper is available on the Buyagift website for £26.99.
There is so much on the Buyagift website from hampers to experience days. They are currently offering validity for 20 months on vouchers. Which is perfect at the moment .As it gives you the freedom to book when you feel comfortable to do things but still able to buy someone a gift they can look forward to.
Chocolate indulgence food hamper from Red Letter days
Now if your anything like me chocolate is the way to your heart . This chocolate indulgence food hamper from Red Letter days is chock a block with all the best chocolate treats any chocolate lover could want. In this hamper you get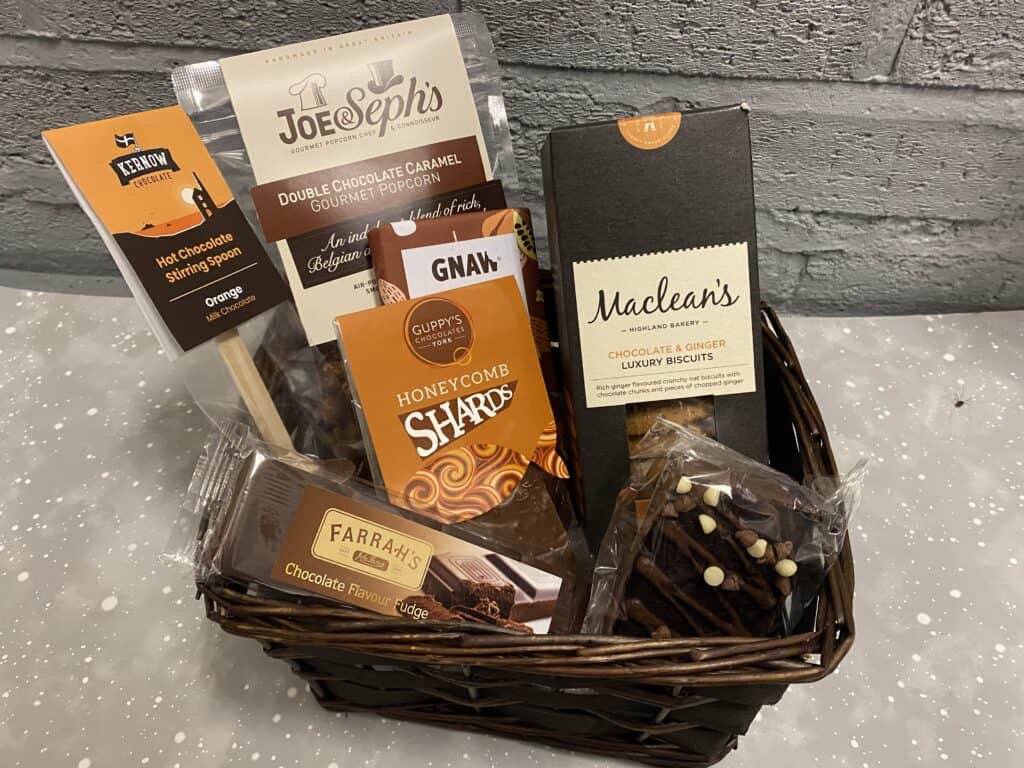 A delicious food hamper filled with tempting chocolate treats presented in a black wire basket
Contents include:
Farrah's of Harrogate Chocolate Flavour Fudge 100g
Maclean's Chocolate & Ginger Luxury Biscuits 150g
Joe & Seph's Double Chocolate Caramel Gourmet Popcorn 80g
Kernow Chocolate Orange Hot Chocolate Stirring Spoon 37g
Gold Crown Mini Chocolate Cake with Milk & White Chocolate Chips
GNAW Milk Chocolate 34% Cocoa 100g
Guppy's Chocolates Honeycomb Shards 90g
Now this hamper says if for 4 people but a treat a night for a few weeks sounds good to me. Also another bonus of this hamper is that it actually comes in a basket which is a big positive for me .
You can get this chocolate indulgence hamper for £32.50 from the Red Letter Days website.
Just like Buyagift Red letter days are offering 20 months validity on all vouchers perfect.
Bradford bakers
If your looking to support a small business this Mother's Day then you may want to take a look at Bradfords bakers. Bradfords was founded in 1924 and has continued to grow and evolve over the years. Then in 2013 due to the recession they sadly had to close their shops but took their delicious baked goods online and started a online business.
There are so many yummy sweet treats on their website like donuts and cupcakes . They also offer gift boxes with additional bits like teddy's and balloons. It's like a one stop shop for all things Mother's Day what's not to like.
Now I know this is a very food heavy gift guide for Mother's Day but with restrictions in place a sweet treat or two is the perfect pick me up.