BKD spring inspired children's subscription box : review
Do you enjoy baking ? I do but I never do it . The stress of finding the perfect recipe and then collecting all the different bits really puts me off. Ava though is getting to the age where she is showing an interest in baking. So I know that I need to up my game on this. So to help us with this BKD have sent us one of their baking subscription boxes for us to try out.
The box we have been sent to review is spring inspired so think bunnies and hot cross buns. The box is aimed at children 3 years + . Ava is only two but she did have an awesome time making the hot cross buns and a bunny cress head. The additional activity bits were a bit old for her but if you have older children they would be great. Or even if you have a mix of ages at home this box could cater for all children which I think is fab. As it can be hard to find something that keeps all children entertained when doing family activities.
What's in the spring inspired BKD children's subscription box ?
Ingredients to make some yummy Hot cross bun cupcakes ( You will need to add butter and 2 eggs)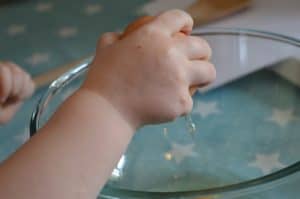 Craft materials and cress seeds to make your very own cress bunny or chick,
A recipe card so you can recreate the Hot cross buns again. Also there are some recipe cards for other things you might want to try to make.
An activity book for your children to read and enjoy filling in. It includes fun facts, lots of learning opportunities and inspiration for more activities.
How it works
It's so simple and easy to order your very own box. You simply visit their website. Where you can personalise the box and it even comes addressed to you child. Making them feel really special.
It's then delivered direct to you. I did like the fact that the box can be put through your letter box. Meaning you don't need to be in to get your box. It will be at home waiting for you to enjoy with your little ones.
Unlike a like of subscription boxes I have come across you can cancel at any time. All you have to do is login to your account online and amend it to what you require.
You and your little ones can become Mini Bakers for as little as £9.99 per month. You can also pay for multiple months at a time or even a yearly subscription which does bring the price per box down.
Our overall thoughts
I really enjoyed exploring the BKD children's subscription box with Ava. It gave me the push I needed to do baking with her and took a lot of the stress out of it. All the things I needed were in one place and all I had to supply myself was 2 eggs and butter.Which we always have in the house anyway. I can imagine it would be a great box to have through the post each month. It enabled me to have that quality time with Ava that she really needed. Also its doing something fun that we both enjoy doing.Plus the Hot cross buns were really yummy.
*We were sent the BKD children's subscription box shown above for free in return for an honest review. All opinions are my own*