Getting creative with Stabilo : Round up
You have probably guessed by now that we like to get crafty. Everyday Ava asks to get her pens out and do some drawing. She will sit for ages in complete silence and create a masterpiece. The lovely people over at Stabilo have sent us some of their products for Ava to try out. The first product that caught my eye was their Cappi 12 fibre tip pens.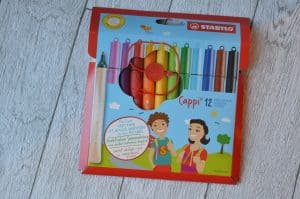 Ava uses felt tips all the time. She isn't the best at keeping the pen on the paper sometimes she does draw on her hands. Why do kids do this ! She will do it and then come over to me and say oh no ! as if someone has done it to her. I have found a lot of the cheaper felt pens I brought her really stain the skin. Which when you're sending your child to nursery and you have to explain the reason for why their hands are so black is because she has drawn on them and it wont come off. Even though you have bathed her several time. Is a little embarrassing. So I was hoping that these wouldn't stain the skin like the cheap ones do. I will add I don't encourage her to draw on herself but kids will be kids right.
As predicted she did draw on her hands but the pen easily came off with a wipe which saves me the embarrassing conversation at nursery. The main thing I thought was amazing about these pens is the cap ring. It comes with a length of plastic that can be threaded through all the caps and then secured to make a ring. Meaning none of the lids will be lost. This is such a simple but amazing idea. With Alby being on the move I'm forever trying to make sure there is nothing little on the floor that he can put in his mouth. With the cap ring all the caps are kept on the loop even if she forgets to put the lids on. At least when im tidying up I don't have to hunt high and low for them.
We also like to take pens and paper out when we go for a meal to keep her entertained whilst we wait for our food. Which these were perfect for as no caps were left behind and kept them all in one place attached to the ring.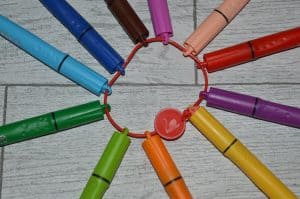 The other simple but amazing thing about these Cappi Fiber tip pens is that the end of the pen is flat.Meaning they don't roll which is just amazing as im forever having to pick ones off the floor that have rolled off the table. So this simple adaptation to the tradition design is saving my sanity.
Stabilo Trio Thick pencils
In every child's art box or pencil-case there needs to be a good set of pencil crayons. With Ava only being little sometimes pencils can be too slim for her and she is unable to have full control over them. The Stabilo Trio Thick pencils are perfect for her. They are triangle-shaped which makes for the perfect comfy holding position. The colours as well are really vibrant and there is 24 of them which I think is a fantastic range of colours for children's crayons. I also really liked that they come with a sharpener. This is something I don't actually have in my house so a lot of Ava's pencils are blunt. So this is a lovely added extra.
Stabilo Power 12
If you have older children that are now good at keeping the lids on their pens. Then the Stabilo power 12 pens are for you. The tips of these are a medium tip which means you able to use these for more detailed work than the Cappi pens shown above. Again they are amazing colour and are really vibrant.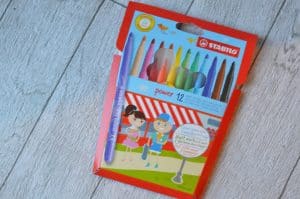 On the packaging it claims that you can leave the cap off for 8 weeks and you can still use the pens. Now this is a big claim to make so I thought it wouldn't be a full review if I didn't try this out. So I left the cap off one of the pens off and just left it on my side. I was very surprised when I went back to it weeks later that it still worked . I will leave it out for the full eight weeks and update you on how we get on but I think it's going to live up to the claim they made. This is the type of felt pens that every family needs . Ones that don't dry up the day you brought them because the kids forgot to put the lids on.
Stabilo woody 3 in 1
Now I have saved what I think is the best till last. We have seen these Stabilo Woody 3 in 1 pens at our local craft shop and they are amazing.
They don't just have one use they have three different ways you can use them. The first way you can use them is like any other crayon. These though are shorter than most pencils we have.They are also really chunky which means they are perfect for little hands. Ava is able to use these with great control and she hold these the best out of all the products we were sent.
The second way you can use these is as a water-colour as a water-colour ! yes you read it right you can turn your normal drawing into a beautiful watercolour painting using the same pencil. Mind blown a little bit I know mine was. I popped a little bit of water in a cup and gave Ava the paintbrush that came in the pack and let her explore how her marks could be changed by brushing water over them. She found this so much fun and it's so much cleaner than actually getting paint out. No messy matt was needing as there really wasn't a lot of mess made.
The last way you can use the Stabilo woody pens is on glass. Yep on glass I know what your thinking crazy lady why would you let your kids draw on glass. Yep I let Ava draw on the windows not before having a go myself. It is really bizarre it goes from a pencil to the feeling of a wax crayon. It glides across glass with such ease. I drew a sun on our window to brighten up a very rainy horrid day.
It was so easy to clean off as well it didn't smear it came straight off with a trusty baby wipe. When we move house I really want to get a sheet of Perspex in the garden for Ava to use these to draw on outside as I think this would make a lovely activity for her.
Our overall thoughts on Stabilo
Overall I am very impressed with all the products we were sent. They have really thought about who their products are for. From the ring cap loop to the size ;